Need A Job? DurianMan SS2 Is Hiring As Long As You DON'T Smell Stronger Than The Durians!
If you're Malaysian, chances are you LOVE durian. If you don't, idk, Singapore's right next door? I mean, the seductive smell and taste is enough to make anyone crazy.
But imagine working at a durian shop? You'll just be surrounded by chunks of gold all the time. If this is your dream, luckily for you, Durianman SS2 has a job opening for DURIAN KNIFE MASTER  and their requirements are well…quirky!
Here's a basic list of what they want:
Able to communicate with customers in Mandarin or BM or English. Preferably able to communicate in at least two languages.
Must have experience and skills in handling the durian knife and open the durian in a quick manner. If you are scared, don't do this!
Must stay hygienic at all times. They reminded applicants that they must NOT smell stronger than the durians!
You must be thinking that these are some pretty basic requirements but that's when they decided to up the ante.
One of the requirements included that if you can dance or perform acrobatic stunts while opening the durian in a very safe manner without hurting anyone, you are hired immediately.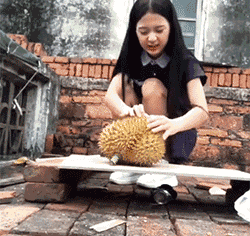 "If you can open durians like a pro, have 6-packs and good-looking, you will also be hired immediately."
The responsibilities include being able to open many durians in a day and still love it. Or as they would put it, "Yesterday open durian, today open durians, tomorrow still need to open many durians!"
They also added that the employee has to be cheerful, hygienic and healthy. We contacted an employee of DurianMan, WK, and asked him what was his inspiration behind this application.
His inspiration for the advert was, believe it or not, Stephen Chow from the movie Beijing With Love where the actor is a secret agent and holding a cleaver knife. This is what lead him to create the ad image where the actor is seen being a Durian Knife Master.
"Now that I have a fancy name, I thought I would want to make the ad copywriting to be able to capture attention and hopefully people would laugh at it and willing to share it with their friends and reach out to whoever is looking for a job."
So far, they've had six interested applicants and some even came straight to the shop. Besides looking for someone who's great with customers, they need someone who's passionate about durians and knowledgeable about the King of Fruits as well.
If you're interested, here are their details:
Job location: DurianMan SS2 
Monthly salary: RM2,500 and above
To apply, you can call +6018-234 5619 (11am – 6pm only)
Tbh, the job seems like a catch, good salary AND you'll be surrounded by durians all day long! If you think you fit all their criteria, make sure to apply and perhaps we'll see you there!
Also read: Thai Fitness Trainers Resort to Selling Durians as Gyms Close Down Because Of Lockdown