Video: Nigerian Man Slashed With Machete By 3 Other Nigerians In Cheras Convenience Store
A Nigerian man suffered injuries after being assaulted by three men armed with machetes in a convenience store located in Alam Jaya, Cheras.
The incident happened on 16 August where CCTV footage shows the victim, who had just finished buying goods, being chased back into the store by three suspects who are also Nigerians.
The video also shows the victim in a red shirt trying to shield himself as the suspects continuously slash him with the machete.
Kajang District Police Chief Assistant Commissioner Mohd Zaid Hassan said his department received a report on the incident from the victim at 12.34pm.
"The victim who had just finished buying goods at the convenience store ran back into the premises to save himself after being chased by the three suspects who are also Nigerians," he said, reported Harian Metro.
"The victim was later slashed by the suspects inside the premises. Shopworkers, who were startled by the victim and the suspect, fled the scene in fear."
Mohd Zaid said the victim suffered injuries to his left thumb, cracked bones on his left hand and wounds on the chest and head.
He added that the victim is currently being treated at Kajang Hospital and in a stable condition. The motive of the attack is still under investigation.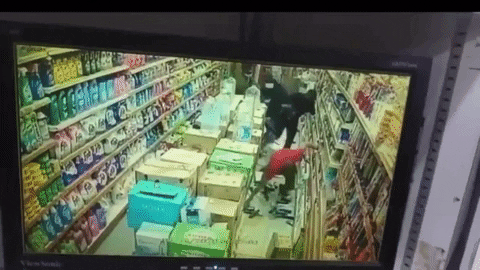 "Further investigation into the case is still ongoing to locate and detain the suspect in accordance with Section 326 of the Penal Code," Mohd Zaid said.
"People who have any information regarding the incident can contact the investigating officer, Inspector Nurfaezatul Akma Rofiee at 017-5443931."
Here's the full video:
Also read: Man Who Slapped & Yelled At Security Guard For Clamping His Car Has Been Arrested