Watch: Badass Bride in Pink Saree Leads Motorcycle Convoy to Her Own Wedding on a Kawasaki
Some girls have been dreaming of their wedding day since young as it is definitely a very important life event. Sometimes, their vision for the wedding changes from the fairy tale wedding to one that correlates with their budget and current interests.
A video has gone viral on Facebook of a bride leading a convoy of motorcycles to her own wedding while she was clad in a pink saree and riding a Kawasaki!
Well, she is definitely a badass!
The video was posted on Facebook on 23rd February and it has garnered 1k reactions and about 4.8k shares.
Looking at the video, we can see that the fully-accessorised bride was leading the convoy of more than 20 motorcycles. The most amazing thing is that her 5 bridesmaids (one of them was a pillion rider) are riding their own motorcycles as well!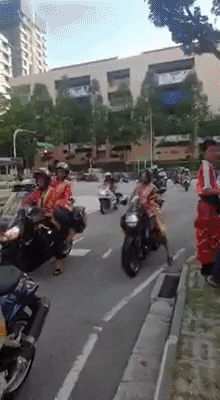 The convoy, led by the black Kawasaki with a yellow flower garland on the side, stopped near the cameraperson and the convoy started to rev their engines. Well, that is certainly a very grand entrance to her own wedding!
It is also a very against-the-customs move coming from the bride as according to Indian customs, the man would be the one bringing a convoy while dancing to the beat of the dhol drum to meet up with his bride at the wedding venue (vara yatra)!
This is definitely a very out of the ordinary wedding! We wish that the newly-weds will have a lifetime of love and happiness!
Also read: M'sian Man Who Drove 25,000KM To Germany Finally Reunited With His GF After 3 Months on The Road!