Updated: Suspects In PDRM Chase Slam Into Oncoming Lorry, Netizens Question Whose Fault Was It
A police chase near Gambang, Kuantan, takes an unexpected turn when the car getting chased ended up slamming into an oncoming lorry, sending it's passengers flying into the air.
The Info Roadblock JPJ/POLIS Facebook page took to their profile to showcase the aftermath of the horrifying accident.
The Head of the State Traffic Investigation and Enforcement Department, Superintendent Kamarulzaman Jusoh @ Mohamad Daud said that before the incident, two members of the Bukit Aman highway patrol (EMPV) were conducting an inspection near the Seri Jaya Toll Plaza, Maran.
It turns out that the car that was being chased was a stolen vehicle, a green Proton Satria. He added that upon seeing the police officers at the toll, the driver of the Satria speed off to avoid inspections, which led to the chase.
"Police officers were involved in chasing the vehicle before the suspect turned around by driving against traffic and entered the Sri Jaya toll road towards Jalan Kuantan – Maran. The continued until it entered the Kuantan district to the Leper Hilir junction before the suspect's vehicle lost control, skidded and collided with a lorry from the opposite direction," he shared.
Upon impact, the Satria went spinning, which led to another small collision with the police vehicle that was in pursuit.
Thankfully, the officers involved in the accident and the lorry driver escaped without injuries, but the three suspects that were in the stolen car badly injured.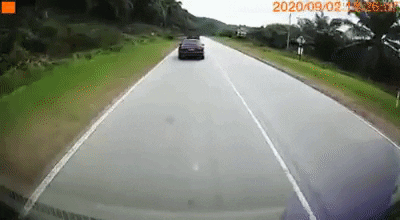 Many netizens were unhappy as they believed that the police vehicle chasing the suspects had rammed the car from behind, causing the accident but others were not having it, highlighting that the PDRM MPV was a distance away and that the suspects' car had swerved into the lorry by themselves.
Either way, a majority of netizens agreed that the suspects should never have run from the police in the first place and that the accident was part of the risk of trying to escape arrest.
This comment goes, "Even if the police did ram the suspects' car, what's the problem in that? They are criminals. They would have been asked to stop, but they didn't. They were stubborn. That's their karma. Don't tell me you expect the police to invite them to a mamak for a proper discussion. Already asked them to stop, they don't want to stop and you expect them to be treated nicely."
What do you think?
Did the suspects' car slam into the lorry themselves or did the police cause the accident? And if the police did cause the accident, is it really their fault?
Let us know your thoughts in the comment section. 
Also read: 6yo Girl Struck Down & Killed By Four-Wheel Drive Vehicle In Front Of Her House In Dungun