Indonesian Food Vloggers Are Eating Chili Milkshakes & We're Feeling The Burn
It's become very apparent that there are some insane chilli fans out there. And when we mean insane, we mean INSANE.
Indonesian food vloggers are proving this by showcasing themselves having something called the Tahu Gejrot 130 Cabe Rawit, which loosely translates means Tahu Gejrot 130 cayenne peppers. What is it, you ask?
It's GREEN CHILLI MILKSHAKE, sans the milk.
One of the vloggers, Sibungbung, took to her Instagram to document the creation and consumption of this hell-firey drink (that you eat).
The 'drink', which consists of green chillies, garlic, onions, tofu and an unknown brown sauce can be found at a roadside stall in Jakarta, Indonesia.
"Sadistic. This guy is so much fun. I asked for a spiciness level of 90 peppers but I was given the one with 130 peppers," Sibungbung wrote.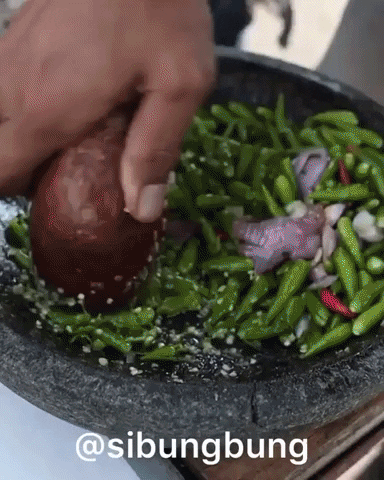 The vlogger could then be seen scooping up the chilli paste before putting it into her mouth.
As much as there are people out there who would enjoy a nice cup of chilli, it's also not very advisable to consume that much of it. After all, there are already studies linking the excessive consumption of chillies with memory loss.
Plus, it's a known fact that eating too much chilli can cause gastric ulcers, which can be really bad and painful.
Hence, it's only smart to put this one on the back-burner.
What do you think about this? Let us know in the comment section. 
Also read: M'sian Lady Admitted Into Hospital and Suffers Gastric Problems After Eating Too Much Spicy Food