9 Things Malaysians Can Be HAPPY About Now That PH is The New Government
It's been more than a week since Pakatan Harapan took over and we're already seeing some changes being made! Effecient sial!
What's more, Malaysians aren't spending half their time insulting the government anymore! In fact, we actually love our new ministers! Who would've thought such a thing was possible, right? Well, besides this, there are a number of other things we can GLADLY look forward to now that PH is the new government! Some of them include:
1. Zouk not having to pindah out of Titiwangsa
Before GE14 happened, PAS candidate Mohamad Noor Mohamad stated that if PAS wins, Zouk would be moved out of Titiwangsa to curb social issues and reduce traffic jams in the area. He even suggested moving it to Bukit Bintang instead. Yes, because places like Bukit Bintang NOT JAM ENOUGH IS IT?!
2. M'sians no longer have to listen to "inspirational" speeches given by our former PM Najib Razak's wife Rosmah
We've all had to read/listen to the BS speeches she has been making all over Malaysia – remember how she saved up money since young to afford that huge diamond? Well, it's a good thing we're seeing a lot more of the lovable Mat Sabu (and other ministers too of course).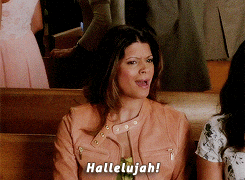 3. Our alcohol in Langkawi are safe and out of harm's way
It's great if you want to ensure that there are sufficient Muslim-friendly hotels, eateries and entertainment places around the island, but turning the entire island into an Islamic tourist destination might not be the best option for all Malaysians and/or tourists. Especially since so many of us like to get our tax free alcohol and cigarettes from there…
This was initially a mandate given by Kuah state assemblyman cadidate, Mazlan Ahmad IF they were to win the elections.
4. GST now simply means "Government Sudah Tukar"
Initially implemented on 1st April 2015, the Goods and Services Tax (GST) is to be abolished within 100 days of Pakatan Harapan's appointment to office. Instead, they will bring back the sales and services tax (SST). Yay for new government!
5. Coconuts will not be Malaysia's official fruit since our beloved Raja Bomoh didn't win a parliamentary and/or state seat
The infamous Ibrahim Mat Zin (aka Raja Bomoh) had stated earlier that he would be running for both a parliamentary and state seat during a press conference in Ipoh on 17 April. However, he pulled out at the last minute because apparently he was bankrupt. Phew!
6. It's going to be harder to save money because there will probably be less cancelled concerts
Yes, hopefully with the new government, we'll see less cancelled concerts. After all, Nurul Izzah herself is a Radiohead fan.
7. Petrol prices won't change as often as we change underwear
Prior to GE14, Malaysians would have to anticipate new fuel prices every week and pray to all the gods that it doesn't increase again. Fortunately, with Tun Mahathir in charge now, he has reintroduced fuel subsidies and this means petrol prices will stay at a steady rate!
8. CO emissions will decrease with (hopefully) less Mat Rempits on the road
In 2016, despite all the protests and criticism from the public, the government went ahead with road closures on public roads for the purpose of allowing Mat Rempits to race "safely". Say what?! 
Hopefully the new government will take new measures and begin curbing Mat Rempits once and for all!
9. Graduates can spend more money on sneakers now and only worry about paying back their PTPTN loans later in life
YAAAAAS!
In Pakatan Harapan's GE14 manifesto, it was stated that PTPTN borrowers will only need to pay back when they start earning at least RM4,000. Yay, I can spend more money now!!!'
There's definitely a hundred other things we can all look forward to with the new government, and one of it is being able to hope again and bring Malaysia to greater heights. Here's to a new and exciting future ahead, Malaysians!
Also read: Trump Congratulates Dr M as 7th PM, Looks Forward to Working Together