Students Crying Foul Over Sexualised Games at NUS Orientation, Forced to Re-Enact Rape Scene
A local Singaporean university, National University of Singapore (NUS), is raising eyebrows after a video of the school's orientation games showing a guy doing pushups on top of a girl went viral for being explicitly sexually-suggestive.
In the clip, it seems to be a game played by students, where the guy does some sort of pumping/pushup exercise whilst a girl lies beneath him. But get this – his crotch is strategically placed above the girl's face, just mere inches from her face during the exercise.
Though barely visible the whole time, the girl's discomfort is more than obvious.

Credit: singaporeseen.stomp.com.sg
Students jeer at the side, wooing and telling her "not to cover her face" as they shove him further down in efforts to get him closer to the girl. Eventually, when a push becomes a shove too close for comfort, the girl wriggled away, not able to bear the humiliation any longer.
Sadly, these games are nothing new, but apparently a "tradition that has been passed down from previous batches" says one anonymous student as she tells The New Paper about the power of peer pressure.

Credit: tnp.sg

Credit: straitstimes.com
"Every time I didn't take part, I was so scared that the orientation group would write me off as a prude and ostracise me,"
Complaints stemming from the inappropriate games at NUS have been rife over the past decade, mostly from women who feel sexualised or harassed by the infamous games and chants, as many of the games involve close contact.
Yet, complaints still pour in til this day. The university has promised to investigate and take action against offenders, implying that nothing much has changed.
One 19 year-old freshman, 'Kim' told The New Paper how she was grabbed from multiple directions by different students during a game that involved soap and water.
"I didn't even know where they were touching. It was so physical. I ended up in pain, and it was a scary experience," she said.
That's just the tip of the iceberg though.
One forfeit made one person stand as a pole while another person dances around him/her as seen.

Credit: straitstimes.com
Another such forfeit for a game required a male and female freshman to re-enact a rape scene between a young male and his younger sister.
"The girl had to lie on the floor, then the guy pretended to kick open a door and say, 'Kor kor (big brother) coming.' The girl had to respond, 'Mei mei (little sister) don't want'," 'Kim' said.
"He then kicked open her legs and did push-ups while lying on top of her.
"The girl looked very uncomfortable and covered her face throughout the whole thing."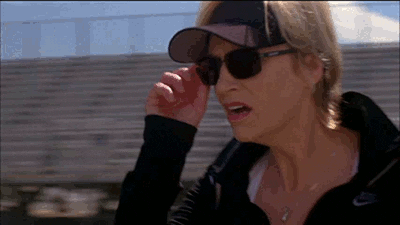 'Kim' stressed at how traumatised the activities left her, leaving her wanting to cry during many of the activities. She also highlighted how she was prevented from leaving despite her discomfort.
Games like this have always stirred the hornet's nest: from camp facilitators making girls lick whipped cream off a guy's chest or neck to waking up participants at 3a.m blindfolded and forcing girls to sit on the guy's lap.
"A group of us girls wanted to leave, but the orientation group leader stopped us and told us to finish playing the game." shared 'Kim'.
"All I wanted was to make new friends. I wonder why we even have such activities?" 
In fact, a Malaysian university got heat recently this year for overly sexualized/cruel orientations as well.
Read more: Ragging Culture in Universities: Bullied to the Extent of Having to Masturbate in Public?