Speeding Car Sends Motorcyclist Flying While He Was Doing a Wheelie in the Middle of the Road
Rempit culture has always been, and considering the lack of consequences faced by these motorcyclists, will always be a norm in Malaysia.
But one video on the internet may convince these daredevils to give up their hazardous lifestyle.
Aiqal (@aiqaaalll) took to his Twitter profile to showcase a gruesome motorcycle accident that started with a group of motorcyclists doing wheelies in the middle of the road in Sao Paulo, Brazil. One of the motorcyclists was doing the stunt on the left lane when a speeding car completely took him out.
sape yg salah skrg ni?😕 pic.twitter.com/BB1V7z8qjE

— aiqal (@aiqaaalll) October 22, 2019
Aiqal captioned, "Who's fault is it?"
In the video, the 19-year-old motorcyclist can be seen doing a wheelie in the middle of the most left lane.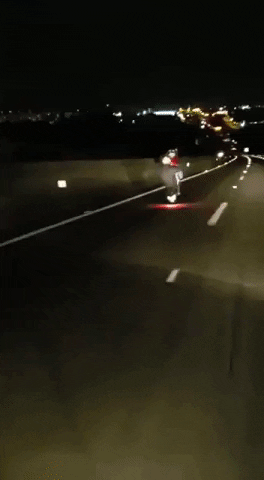 Then, completely out of nowhere, a speeding car slams into him from behind, completely wiping the motorcyclist out.
Luckily for the young motorist who was sent flying, he only sustained minor injuries and has since been discharged from the hospital, as according to ViralTab.
Though as fortunate as this particular biker was to come out of the ordeal with his life, others may not be as lucky and should abandon this type of behaviour.
It is still unclear as to whether or not the driver in the car had seen the motorcyclist or if they had sustained any injuries from the crash, but it is reported that they assisted with providing aid to the injured biker.
Aiqil's posting has since garnered over 1,900 retweets.
Hopefully, the boy learns from his mistakes and let this be a lesson for others. 
Also read: "It's the Parents' Fault, Not the Driver's," Netizens Share After Kelantan Boy was Hit by Car