Gone are the days where parents hold their children's hands as they cross the road, or remind them to look both ways if they are alone.
Many parents are giving their kids more and more freedom and independence due to their busy schedules. Some are even giving their children the liberty to leave the house unaccompanied and unaware of the dangers of being outside in general.
For example, MyWatch (@My_CrimeWatch) took to their Twitter page to showcase dashcam footage of a little boy running across a road unaccompanied, before being hit by the car.
The driver had turned into a junction and was going down the straight road when the boy ran out onto the road behind a grey Proton saga which was stopped at the red light on the opposite direction. Without checking for traffic, the little boy just rushed through the street and end up getting hit.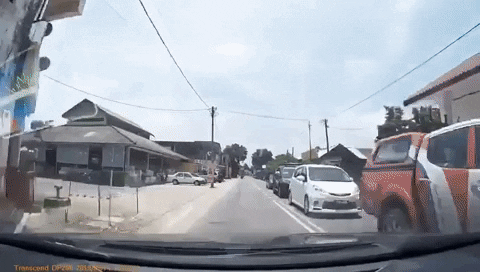 You can watch the original footage below:
Kejadian di Ketereh, Kelantan. Nak salahkan kereta pun tak boleh juga. pic.twitter.com/5U6haCRMNU

— MyWatch (@My_CrimeWatch) September 16, 2019
The page wrote, "Happened in Ketereh, Kelantan. Cannot blame the driver."
A netizen also shared the longer version to the video, which clearly shows the driver's point of view to the incident.
Versi 30 saat pic.twitter.com/xG1TFl64q5

— azz (@Ronellabyazza) September 16, 2019
Netizens who saw the video ultimately blamed the boy for the incident as it's universal information that running across a road (especially without looking) is dangerous.
This comment goes,"It's the boy's fault, he ran out without stopping to look left and right first."
This comment says, "Supposedly, the boy should have stopped behind the grey car and looked left first. Then she could have ran across the road (after checking for cars). That's the right way as to how he should have crossed the road. His parents also let him play by the road side like that."
This comment reads, "It's the parent's fault."
It turns out that the boy is the grandson of the road side vendor at the location. He was brought to the hospital and is completely fine, which he and his parents should be very grateful for.
We hope the boy and his family takes this as a lesson as to never play and run on the roads again.
MyWatch's posting has since garnered over 3,300 retweets.
We also hope that the driver recovers from the trauma of having hit someone, for it's really not a pleasant feeling. 
Also read: Watch: Smart Doggy Carefully Uses Zebra Crossing After Seeing Jaywalker Kena Hit By Car