Update: Immigration Department CONFIRMS Najib and Rosmah Are Blacklisted
According to an earlier report by Malaysiakini, the couple were claimed to be originally blacklisted by the Immigration Department's Travel Status Enquiry System (SSPI). It was said that as of 9.18am there has been a change in status, now returning the results "Tiada halangan" (No obstacle).
Checks were conducted at 5.30am on Najib (530723-06-XXXX) and Rosmah (511210-05-XXXX) returned the results: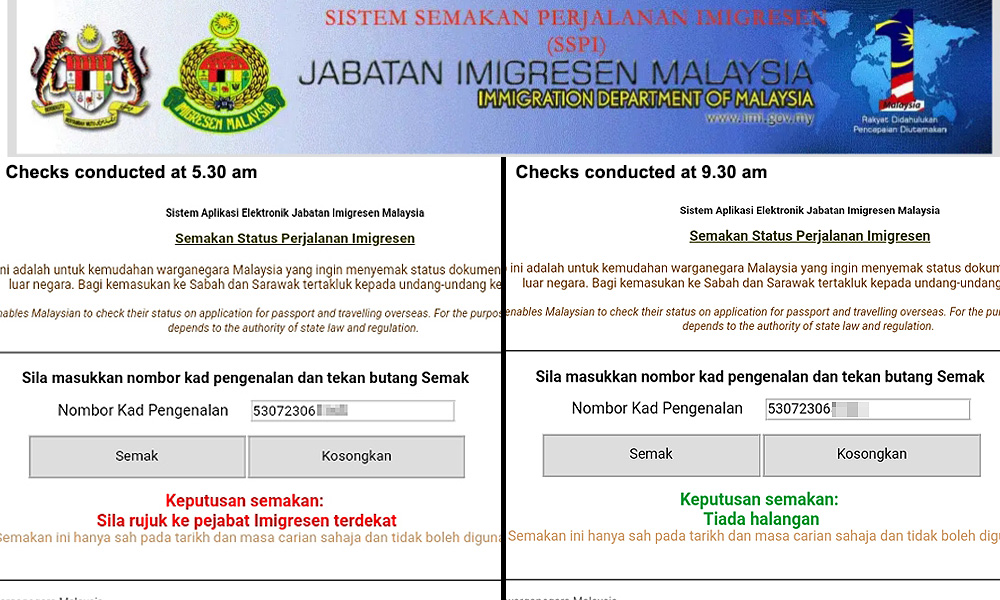 Source: Malaysiakini
Earlier, director-general Mustafar Ali told Malaysiakini in a text message that the duo had not been blacklisted. He refused to elaborate when pressed for further information.
However, new updates by Jabatan Imigresen Malaysia CONFIRMS that the two are indeed blacklisted. GG!

Source: Facebook
The apparent blacklisting of the former prime minister and his wife came amid a leaked flight plan yesterday which showed that they planned to travel from Subang Airport to Halim Perdanakusuma International Airport in Jakarta at 10am today on a private jet operated by Premiair.
This has led many to speculate that they were trying to flee the country in the wake of Barisan Nasional's shocking defeat in the 14th General Elections. Perhaps even to avoid the investigations on 1MDB? However, we urge everyone to keep calm as there mayyyy be other reasons for their travels too. Only time will tell.
Read also: BREAKING: Former Malaysian Leader And Wife Allegedly Scheduled Private Jet to Indonesia