M'sian Man Attacks Foreign Guard With Golf Club Because He Got Clamped For Parking in OKU Spot
It's bad enough that people without disabilities believe that they can park their cars in OKU parking spots, but you knows what's worse?
People who park in OKU spots and when confronted with consequences, shamelessly turn to violence with no remorse.
The MyWatch (@My_CrimeWatch) took to their page to showcase an incident where a tenant of the KL Trader Square condominium had illegally parked in an OKU spot. When his car was clamped because of his ignorant actions, he decided to attack a security guard with a golf club.
Seorang Pengawal Keselamatan warga asing cedera dipukul pemilik kereta setelah kereta Honda miliknya dikunci tayar akibat parkir di petak OKU. Kejadian di sebuah kondo dekat Setapak. pic.twitter.com/cysv4VK9M4

— MyWatch (@My_CrimeWatch) October 20, 2019
They wrote, "A foreign security guard was injured after he was beaten up by a car owner after his Honda was clamped as he had parked in an OKU spot. This incident happened at a condominium near Setapak."
Another man can be seen in the video, trying to separate the guard and the man who assaulted him, before leading the assaulter away.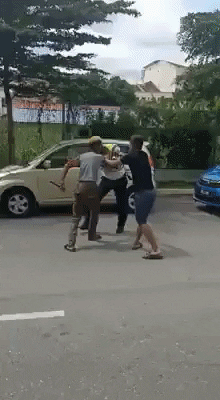 After the attacker was pulled off the guard and escorted away, he can been seen smiling and even laughing, looking smug and awfully satisfied with himself.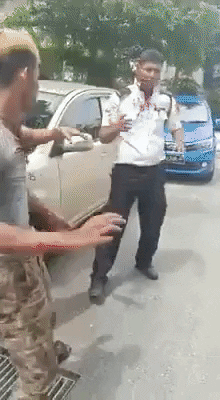 The poor security guard, who was only doing his job, was beaten up so badly that blood continuously flowed from his ear, soaking his uniform.
Viewer discretion is advised, as the following GIF contains a snippet of the bloodied guard, which may be disturbing to some viewers.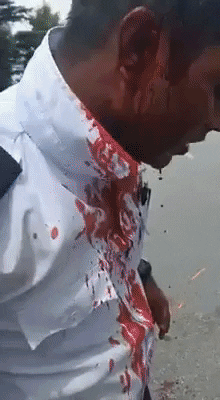 Free Malaysia Today reports that the attacker, who is from Terengganu, has been arrested, and will be charged under Section 324 of the Penal Code.
For now, we truly hope that the security guard gets the medical attention that he needs, the justice that he deserves and heals from this incident.
Until then, we anticipate good news from our PDRM soon, regarding the fate of the attacker. 
Also read: Disabled Man Couldn't Enter Car in Subang Mall Parking Because of This Seriously Rude Pickup Truck