5 Gifts You Can Get This Mother's Day To Show You Still Love Her Even If You're Broke
So, Mother's Day is around the corner and if your mom is anything like my mom, it's almost impossible to get gifts for her. I mean, I'm too poor to send her on a 10-day Europe tour vacation but I'm also too old to make an ugly card and call it a day. You get me?
To solve this dilemma, I went across multiple online shopping apps to find what I can get for my favourite person in the world (Sorry Dad, I'll see you on Father's Day?) while still being on a budget.
Let's just say I was pleasantly surprised by the choices these apps offered. Without wasting any more time, let's look at these options you can get your mom while at the same time, making sure you don't eat air at the end of the month.
1. Portable Electric Juice Blender 
Why moms love it: It's the day and age of fitness! Your mom, like almost every other person out there, must've jumped on the bandwagon and might even claim herself to be a fitness guru now! Juice is one of the best health food cause like most healthy food, it doesn't taste bad and it's even easy to make. This adorable portable blender is USB-Rechargeable and even equipped with every moms' favourite word – stainless steel.
Price: If you're thinking that this blender looks atas, don't worry, this blender costs only RM23
You can get it here.
Why moms love it: Idk bout you guys, but for me, my mom is the most beautiful woman in the world (FYI, the woman above is not my mom!). Despite being the busiest person on the planet and always having 272274 things on her plate, my mom always made sure to look good when she goes off to work. Imagine having an automatic iron hair curler that heats up in just 50 seconds that would just add a whole new step to your mom's glam look.
Price: RM39
You can get it for a limited time here!
3. Electric Neck Massager
Raise your hands if this is your mom at the end of the day.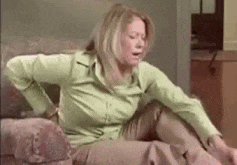 So, in all our love and wisdom, we would want to give her a massage but unfortunately, let's face it, we're not masseurs! So, what's the next alternative? An electric massager of course!
Why moms love it: This massager is able to provide a full body massage and will definitely relieve your mom's aches. Since it's light, she can even use it herself especially with the anti-slip handle.
Price: RM82
You can get this gem here!
4. Foot Spa
Our moms deserve the world and for all the work they do, they may even deserve a spa day but unfortunately, have you seen the price to go for a spa day nowadays?? So, if you can't bring the whole spa to her, why not just get a relaxing foot bath instead?
Why moms love it: This foot bath is sure to become your mom's favourite foldable so it doesn't make a mess at all and you can even store it easily. Imagine your mom, after a long day, just soaking all her problems (a.k.a. you!) away.
Price: RM30 (You can even add these relaxing masks and indulge your mom even further while still maintaining a budget)
Get this foot spa here!
5. Kitchen Organizer
High chances are that whenever you've bought your mom a birthday 0r Mother's day gift, the first sentence she utters isn't thank you but instead is, "Aiya, why spend so much money, I won't use this also!".
You'll just be there like:
But, plot twist, how about you get something that you know she'll have no choice but to use cause you know she needs it desperately.
Why moms love it: This super-useful kitchen organizer costs only RM45 and will definitely aid your mom in storing her thousand and one secret spices that make her food taste magical!
Price: RM45
Get it here!
At the end of the day, no gift is enough to justify our love towards our mothers. But hey, a gift here and there never hurt anyone! This year's Mother's Day is definitely going to be a different one with all of us in quarantine. Let us know in the comments section how will you be celebrating Mother's Day this year. Until then, Happy Mother's Day to all the mother's out there, you da best!!
Also read: This Lady Actually Made a Durian Bouquet for Her Mother-in-Law for Mother's Day