44yo Man Couldn't Poop, Pulls Out Live & Moving Tapeworm From His Butt
A 44-year-old man got the shock of his life when he pulled out a live tape worm from his backside!
According to Daily Mail, Kritsada Ratprachoom from Udon Thani in northeastern Thailand had just dropped off his child at school and was going about his day when he needed to take a dump.
When he was done, he felt like he couldn't poop properly and felt like something was stuck.
Getting up from the toilet to see what it was, he found something sticking out of his bottom. He thought it was a piece of string left over from the appendix surgery he had the week before and began pulling at it.
However, he soon realised that it didn't feel like string, but instead, felt sticky and stretchy!
After pulling what felt like a 32-foot long 'string', the man was faced with a horrifying LIVE tapeworm! He knew it was alive because it began wriggling around when he set it down on the toilet cistern.
He then proceeded to flush the worm down the toilet and until now, he still doesn't know how the worm had ended up inside his body.
According to Kid's Health, tapeworms get into the body "when someone eats or drinks something that's infected with a worm or its eggs. Once inside the body, the tapeworm head attaches to the inner wall of the intestines and feeds off the food being digested."
Here's the video that he took. You can actually see it moving!!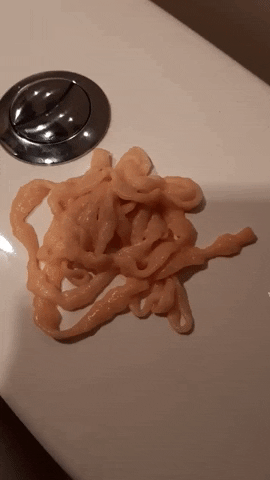 Eww! That's really gross! Good thing the tapeworm is out of his body now.
Also read: 46yo Gets Brain Parasites After Not Cooking Meat Properly While Having Hotpot Meal