Watch: 'Orang Minyak' Thief Robs House After Lady Fell Asleep With Front Door Wide Open
We understand that with the festive season comes open houses. But when we say open house, we don't mean leaving your doors wide open with no one conscious around.
The We are Malaysians Facebook page took to their account to showcase CCTV footage of a lady sleeping in her living room with the front door left wide open.
Soon, a man described as looking like a mythical 'orang minyak' or 'oily man' walked into the house after glancing in from outside. The man appeared to have his T-shirt wrapped around his face to hide his identity. He then slowly crept around the house, standing in the living room for a while staring at the lady sleeping before creeping into another room.
The page wrote in their caption, "Orang minyak."
The man walked around the house, grabbing items and taking them outside. The house seemed to be empty besides the sleeping lady, which gave the man the opportunity to search individual rooms without being detected.
Many details of this incident are still in the dark, such as whether the man was caught in the end or if the lady was hurt, but we genuinely hope that no harm came to the woman.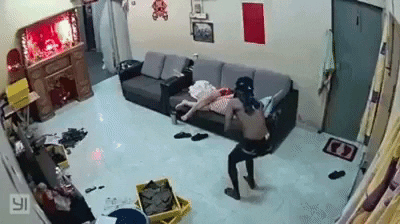 This incident is reason for us to remember to be more careful this festive season. Please ensure all doors and windows are closed and locked, especially if you're alone at home.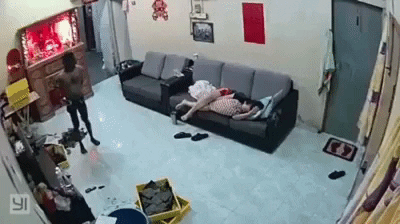 We are Malaysian's posting has since garnered over 422 shares.
We urge the authorities to ensure they catch this man as soon as possible.
Had a similar experience? Let us know in the comments section. 
Also read: Watch: Man Recklessly Swings Chinese Firecrackers Around Body Like a Lasso