Watch: Man Recklessly Swings Chinese Firecrackers Around Body Like a Lasso
Festive seasons invite the opportunity to play with fireworks, and Chinese New Year is no different.
But because of the dangers associated with fireworks, many parents and even authorities have either banned or warned against the lighting up of fireworks, urging people to set them off as carefully as possible.
This is not an example of careful.
Netizen 胡智雄 took to his Facebook page to showcase a video of a man on the streets flinging around an already lit string of Chinese firecrackers like it's a lasso.
不牛的事情我们不做哈哈2020年好运来🤗🤗

Posted by 胡智雄 on Saturday, January 25, 2020
He wrote, "We don't do what cows do. Good luck in 2020."
In the video, the man can be seen swinging around the firecrackers in a circle around his body. As the firecracker neared the end, he threw it onto the ground and casually walked away, rubbing the back of his neck in the process as though he had been hit by the sparks.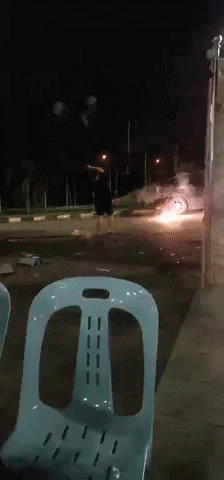 The man's actions could have potentially severely hurt himself and also innocent road users. Not to mention, the firecrackers could have damaged the cars parked nearby.
It is still unsure as to what the man was trying to prove with his reckless actions, but we genuinely hope he doesn't repeat it again for the sake of himself and others.
胡智雄's posting has since garnered over 5,000 shares.
Come on, man. Don't ruin the fun of fireworks for the rest of us. Just enjoy it from a safe distance. 
Also read: M'sian Lady Nearly Eats Fish With Hook Still Attached To It At Johor Restaurant