Watch: M'sian Woman Gets Down from Car & Slaps Man For Honking Her, He Kicks Her & They Fight
In a video that went viral on Twitter on 1st December, a huge fight broke out in the middle of the road causing a minor road blockage as motorists watch on.
The video shows a man in a dark blue shirt and his friend standing outside their car when suddenly a woman comes and slaps him. He reacts angrily and kicks the woman, almost pushing her in front of slow-moving traffic.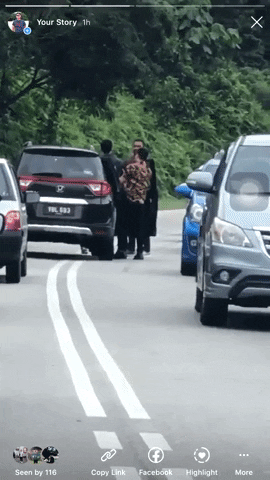 She immediately fights back as her husband and friend start attacking the man for slapping the woman. They throw punches and kick him, but he too attacks them with some kicks of his own.
At this point of time, the woman had run away and hid from the scene as the men continued fighting each other.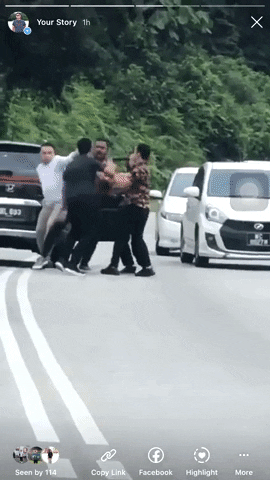 The video was then retweeted by the man himself with a caption explaining that he apparently wanted to enter the main road from the junction.
There was a traffic jam at that time, but the girl did not allow him to enter in front of her and honked him for a long time.
In the end, he decided to let her go first before entering the lane and honked her back. But this only caused her to become angry as she got out of the car and approached the man.
"She slap, I kick," he wrote.
Aku nak masuk jalan utama dari jalan simpang. Masa tu jammed. Yg perempuan ni drive tak bagi aku masuk jalan pastu Hon sampai sudah. Last aku mengalah aku bg dia masuk dan aku Hon balik.

Dia keluar kereta pastu cabut penutup tingkap aku. Dia tampar, aku sepak. https://t.co/qUeZvA5wny

— Shazmie RajaProperty (@shazmiejo) December 1, 2019
However, after what seemed to be an intense fight about honking and who should go first, it seems like the woman and the man have reconciled.
The man posted on Twitter photos of him, the woman and her husband meeting up at a restaurant to make up after what happened.
Well, I'm not sure who was in the wrong in the first place, but at least they met each other and reconciled.
Also read: Watch: Selfish M'sians Just Stand & Look While Cheras Uncle Screams For Help to Fight Off Robbers