The Flaming Lips Just Threw A Bubble Concert In Oklahoma & Hey, Can We Try That Here?
The Malaysian music industry has taken quite a hit due to the Covid-19 outbreak. With music venues closed because of the standard operating procedures (SOPs) of the Recovery Movement Control Order (RMCO) and Conditional Movement Control Order (CMCO) implemented all over our country, musicians have to rely on online platforms to perform and earn.
But what if there are other, more odd and whimsical ways, to still carry out live shows?
Legendary rock band, the Flaming Lips recently played a full-fledged concert in Oklahoma City, USA, but they ensured that everyone was Covid-19 safe by not only putting the audience members, but also the band itself, in individual bubbles. And we gotta say, it looks really fun.
As according to Tone Deaf, this isn't the first time The Flaming Lips has tried out the space bubble idea as they've performed for smaller crowds on The Tonight Show Starring Jimmy Fallon and The Late Show with Stephen Colbert with this very same idea.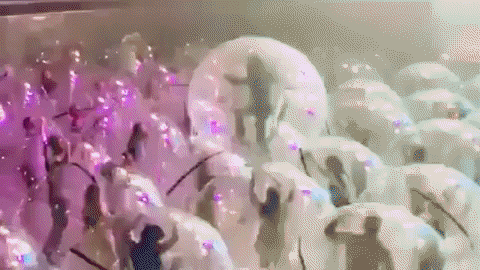 "I mean, it seems absurd, but we at first were just doing it not as a joke but just as a kind of funny thing and now it's becoming kind of serious and real," lead singer Wayne Coyne told Brooklyn Vegan.
The Oklahoma City show not only doubled as a test run to see if the space bubbles were suitable for a large-scaled gig but also as a music video shoot.
Considering how it might be impossible to go back to doing normal live music shows, after all, how will we know if we'll ever fully eradicate the Covid-19 virus, maybe it's time to consider some alternative approaches like how The Flaming Lips have done.
Put us in bubble suits and let's rock on!
Would you go for a bubble concert? Let us know in the comment section. 
Also read: The UK Just Held The World's First Physical-Distanced Concert & We're All For It