PDRM Investigating Officer After Video Caught Him Allegedly Kicking Foreign Worker
We admire and appreciate police officers as they constantly put themselves in the line of danger for the safety of Malaysians.
But sadly, sometimes there may be some who take advantage of the authority their job entitles.
As according to Harian Metro, an officer is currently under investigation with the Royal Malaysia Police (PDRM) after he was accused of police brutality against a Burmese factory worker in Senawang, Seremban.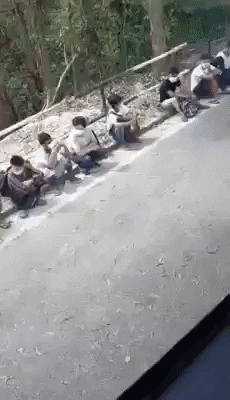 A video of the incident can be found circulating social media, where the officer can be seen kicking a man believed to be a worker from Myanmar, who is sitting in a line by the roadside with his co-workers, while waiting for a bus to take them to a quarantine centre.
Seremban District Police Chief Assistant Commissioner Mohd Said Ibrahim shared that he has been informed of the incident and is currently looking into the matter.
"If it's true, a police report will be made and the appropriate investigations will be conducted. No one is allowed to override existing laws," he said.
However, some defended the police's actions as they claimed that some foreign workers can be rowdy and stubborn. Hence, the 6-second clip cannot prove anything.
In any case, some countered those claims stating that brute force should never be used anyway.
What do you think about this? Let us know in the comment section. 
Also read: M'sian Woman Stopped & Questioned By Police If She Was On Drugs Because She Was 'Thin'