Good news, everyone! Manny Pacquiao, the newly crowned World Boxing Association (WBA) welterweight champion, wants to donate the training camp equipment he used for his "Fight of the Champions" to Malaysia, according to NST.

Source: FMT
During the press conference, after defeating Argentinian boxer Lucas Matthysse at the Axiata Arena, Pacquiao told the reporters that the reason behind this gesture is to promote and support the growth of boxing in Malaysia.
"I have talked to Prime Minister Tun Dr Mahathir Mohamad and the equipment we used in Kuala Lumpur for this training, we will donate it. We have also talked about promoting boxing in Malaysia. We are going to start it," he said.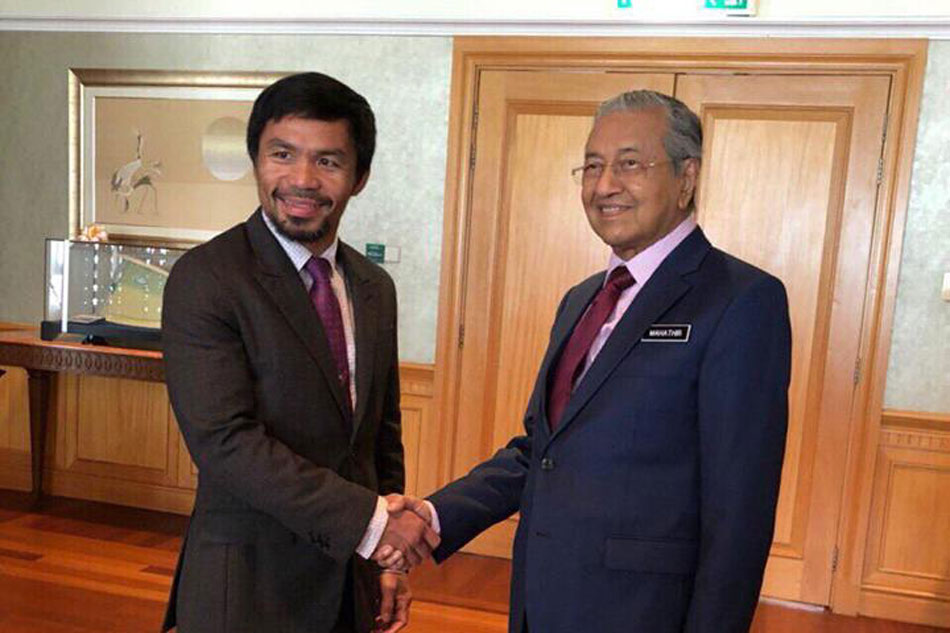 Source: ABS-CBN News
The 39-year-old Senator of the Philippines further said that Malaysia was chosen because he wanted to promote professional boxing in Asia, a sport that is still not very popular here compared to the United States and Latin America.
"I love this place, thank you so much for the beautiful and wonderful facility in KL. I hope it is not the last fight under MP Promotions here, as this is one of the big fights in Asia, which was shown in more than 200 countries. We are looking forward for more events here," he said.
Nicknamed as "The Pacman", he claimed the WBA welterweight title from Matthysse with a seventh-round technical knockout on Sunday (July 15).
Matthyse, dubbed "The Machine" for his aggressive punches, had taken the title in January this year after defeating Thailand's Tewa Kiram, as reported by Channel NewsAsia.
Pacquiao commented that his victory was most likely because Matthysse was not able to take his punches, and did not expect the change in his fighting style under new coach Buboy Fernandez.
"From the first round I had in mind already that I could win the fight because our strategy was to beat him by taking time and not to rush. He might also be surprised that I was coming in from the side, not running around."
"To be a champion, one needs to work hard, and have dedication and passion. You have to be dedicated in training and be passionate in boxing to push your limit. I do not feel like 39, I still feel and look like 27," he said.
A man from humble beginnings, Pacquaio is certainly one of the most inspiring role models out there. Congratulations again to his victory! 
Also read: France Claims World Cup Victory AGAIN 20 YEARS LATER With 4-2