Update: Man Denies Slamming Stray Cat Onto Ground, Shares That He Only Wanted To Scare It
In an update regarding the animal cruelty incident outside a mosque in Shah Alam, a Bangladeshi man, who is a security personnel of the mosque was seen slamming a cat towards the ground.
As according to Harian Metro, authorities of the mosque has since spoken up on behalf of the man, sharing that he never intended to hurt the cat, but only wanted to scare it. "He denies and admits to not intending to slam the cat, as he only wanted to scare it while giving it food," they said.
They assured the public that the cat is unharmed and that the man has been warned to never repeat his actions again.
The Malaysia Animal Crime Transparency (MyAct) Facebook page took to their profile to showcase a video of an elderly man who allegedly picked up a cat and threw it against the ground outside a mosque in Taman Sri Muda, Shah Alam in an apparent second incident.
They wrote, "We are looking for this man who slammed the cat near the mosque. This second incident of the cat getting slammed on the ground happened yesterday evening, 22 October at around 2:20pm and this time it happened at the Taman Sri Muda mosque, Shah Alam. MyAct was informed of this incident by the general public and we're asking witnesses to step forward in order to make a report with the authorities."
Apparently, the man has been going around slamming cats to the ground because they don't seem to be eating the food given to them.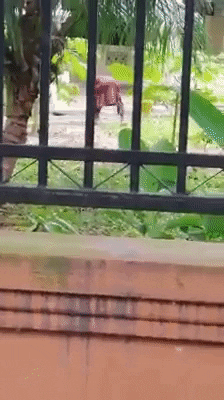 "The reason why the man is slamming cats is because he is angry that the strays that are constantly given food are not eating it," they added.
Anyone with any information regarding this incident can contact MyAct at +601120901097.
Cruelty towards animals should never be condoned in anyway. We genuinely hope that the man is stopped before any harm can come to the cat. Also, it's refreshing to know that the strays in the area are getting fed by kind-hearted people.
What do you think about this? Let us know in the comment section. 
Also read: NGO Warns Against Poisoning Birds After Multiple Bodies Of Sparrows And Doves Found