Kind M'sian Gives Away More Than 2,000 FREE Durians to Celebrate New Govt
The folks at Seberang Jaya in Penang got really lucky last night, when orchard owner Raymond Cheah gave out an entire lorry load of durians for free! He gave out over 1,000 durians last night at SP Arena hall in Seberang Jaya in honour of Pakatan Harapan's (PH) win at the 14th General Elections, and also to welcome Anwar Ibrahim back to his hometown. So generous!

Source: Free Malaysia Today
The kind man told FMT, "Everywhere Datuk Seri (Anwar) goes, I will follow and bring durians along to be given away for free. I am doing this because PH won and we love Anwar." He had also brought along his one-tonne lorry to carry the thorny fruits ready to be given out to excited Penangites. Raymond said he was an old friend of Anwar's, who had supported him since the Reformasi movement in 1998.
He also said he was giving out the famous king of the fruits as a sign of gratitude to Malaysians for helping PH form the new government, and boy, were the people grateful! In fact, the durians were all gone in a matter of minutes! Prior to this, the 57-year-old Cheah said he had already given out another 1,000 durians to those who came for Anwar's buka puasa event in Permatang Pauh.
That's not all, Cheah handed out dates, mangosteens and mangoes from India when he attended another of Anwar's events as well. However, when asked, the orchard owner Cheah, 57, refused to say how much he spent on the fruits, indicating he was only showing his appreciation for the general public in voting for a new government.
It was not mentioned which variety of durians the generous man was giving out but the current market price for Musang King can go for about RM35 to RM50 per kg. Cheah said that all the durians given out comes from his orchard in Pahang.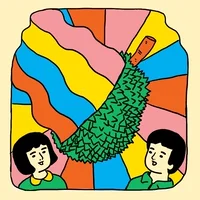 Malaysians came out in droves for this historic GE14, which led to the fall of the incumbent ruling party Barisan Nasional which had held on to power for 61 years. For an event this huge in our history, I guess it shouldn't really come as a surprise that this durian runtuh party was called for!
Watch the video here:
Fruits party, anyone? 🙂
Read Also: You Can Now Beautify Your Face With the Scent and Shade of Musang King Durian