HIMYM Gets Spinoff With 'How I Met Your Father' Series, Starring Hilary Duff!
HIMYM fans, you guys already know the story of how Ted Mosby met his kids' mother. But, now it is time for us to hear the other side of the story.
A How I Met Your Mother spinoff series, How I Met Your Father, has been ordered by Hulu with Hilary Duff set to star as the lead role!
According to Screen Rant, the idea of a HIMYM spinoff has been rumoured for some time now, and it looks like the project is now finally going to happen.
The CBS sitcom has been hugely popular through its nine-season run, becoming one of the most-watched comedy series over the past decade.
Now, streaming service, Hulu, has given a 10-episode straight-to-series order to How I Met Your Father.
Starring Josh Radnor, Cobie Smulders, Neil Patrick Harris, Alyson Hannigan, and Jason Segel, How I Met Your Mother told the story of five adult friends living and looking for love – often with one another – in New York City.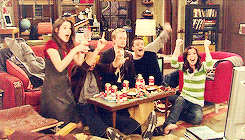 Comparable in style and structure to the OG sitcom Friends, HIMYM gained a large following early on and ran successfully for a decade. However, many fans were not too happy with the show's complicated ending.
So, what should you expect from this spinoff series?
Well, according to the plot synopsis by Hulu, they wrote:
"In the near future, Sophie (Duff) is telling her son the story of how she met his father: a story that catapults us back to the year 2021 where Sophie and her close-knit group of friends are in the midst of figuring out who they are, what they want out of life, and how to fall in love in the age of dating apps and limitless options."
Hilary Duff too shared her excitement on Instagram by saying:
"I've been incredibly lucky in my career to play some wonderful characters and I'm looking forward to taking on the role of Sophie," said Duff. "As a huge fan of 'How I Met Your Mother,'
I'm honoured and even a little nervous that Carter and Craig would trust me with the sequel of their baby. Isaac and Elizabeth are brilliant, and I can't wait to work alongside them and all of their genius.
Just fangirling over here getting to join the Hulu Originals and 20th families. I realize these are big shoes to fill and I'm excited to slip my 6 ½'s in there!"
There's no word yet on when How I Met Your Father will start shooting, or when it might premiere on Hulu. But, we are sure it's going to be LEGEN… wait for it… DARY! Yes, LEGENDARY!
Are you a HIMYM fan and are you excited for this reboot? Let us know in the comment section below!
Also Read: Mario Lopez is KFC's Colonel Sanders in Lifetime's New Hot & Spicy Romance Movie 'A Recipe for Seduction'