End of 68-Year-Old War? Here's What Happened During the North and South Korean Summit
Yes, whatever the world witness on Friday the 27th of April was unthinkable!
North and South Korea took their first steps towards peace during the summit with global implications. Weren't up to date about it? Well, here's the low down on what happened:
1. North Korean leader Kim Jong Un and South Korea's President Moon Jae-in met at the line that separates the divided Koreas
Kim then stepped over the raised Military Demarcation Line, entering territory controlled by the South for the very first time. After posing for the cameras, Kim then grasped Moon's hand and they briefly crossed into the northern side.

Source: CNN
2. Kim and Moon took part in a symbolic tree-planting ceremony in the DMZ
The tree is from 1953, which is a significant year in the Koreas history. That was the year the Korean War armistice was signed. Kim used soil from a mountain on the southern island of Jeju while Moon used earth from Mount Paektu in the north.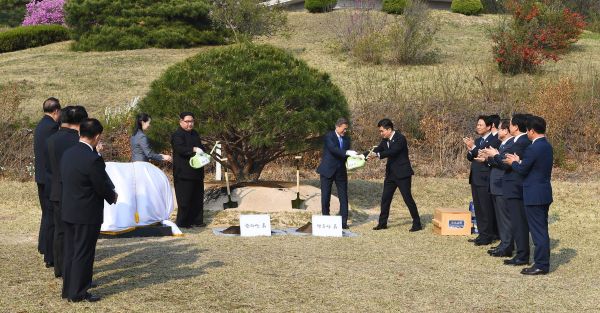 Source: CNN
3. Both Presidents walked without officials and they talked for 30 minutes alone
Kim Jong Un and Moon Jae-In took a solitary walk through the DMZ to a footbridge that was recently repainted the same blue used on the Korean Unification Flag. Nobody knows what was discussed.
4. They signed the Panmunjom Declaration for Peace, Prosperity and Unification on the Korean Peninsula
The document required the commitment of the two countries to form a nuclear-free peninsula and talks to bring a formal end to the Korean War.
5. The leaders ended the summit with a formal dinner and a toast
A report by CNN shows the types of food that was on the menu for the historic dinner!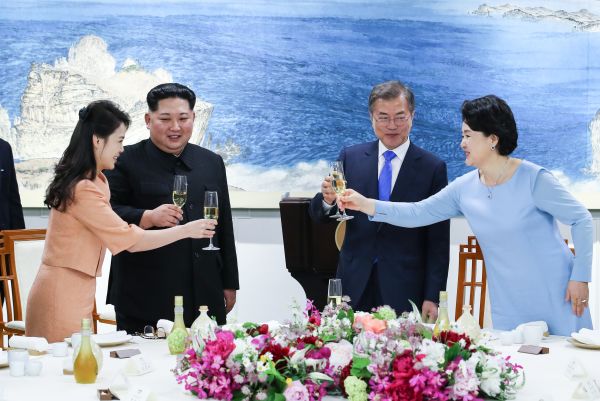 Source: CNN
6. South Korean singer Minah performed a song to end the summit
Friday's events in the demilitarized zone concluded with a suitably flashy performance. A Korean song called "One dream, One Korea" was sung by south korean singer Minah and accompanied by a pianist and orchestra while a huge projection was played onto the side of the Peace House.

Source: CNN
The Koreas went to war in 1950 when soldiers from the North Korean People's Army invaded the South. But the armed conflict only ended three years later in 1953, with an armistice agreement. However no formal peace treaty was ever signed, which has technically left the Peninsula at war ever since.
With these new steps towards a more united peninsula, it can be safely said that the Koreas will be sharing more than just walks to remember in the coming years. If this says anything about 2018, alongside the concurrence of Malaysia's tight race to GE14, it's that we're up for a very interesting year in politics!
Also Read: North Korea and South Korea May Finally End Its 68-Year-Old War Affair