Six men were arrested for beating up a motorcyclist at a petrol station at Batu 9, Cheras at 4am on 21 January. The man, who sustained injuries, had to resort to jumping into a ditch to protect himself from the suspects, reported China Press.
According to Kajang police chief Asst Comm Mohd Zaid Hassan, the police received a call from members of the public at 4.50am.
"Acting on information, a police patrol car was rushed to the scene and found the victim injured," he said.
"The victim was then taken to the hospital by ambulance. A review of closed circuit television (CCTV) footage found that the victim was injured by several men."
A six-minute long video posted on Facebook shows the victim on a motorcycle with a friend when a group of men holding wooden sticks and knives pulled him off and started beating him up.
The group of men whacked the victim, punched, kicked and threw objects at him repeatedly as the victim curled up on the ground, unable to defend himself.
Mohd Zaid said following the incident, the police from the Criminal Investigation Division of the Kajang District Police Headquarters (IPD) conducted further investigations. As a result, they managed to track down the six men in the area a few hours later, reported Harian Metro.
"Police are still investigating to determine the cause of the incident. The victim is receiving treatment at the hospital and is reported to be stable," he said.
The victim jumping into the ditch: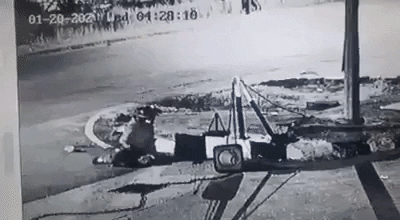 Meanwhile, the case is being investigated under Section 148 of the Penal Code which states that,
"Any person who attends, takes part in or is found at any riot and who has in his possession at such riot any firearm,
ammunition, explosive, corrosive, injurious or obnoxious substance, stick, stone or any weapon or missile capable of use as a weapon of offence shall be punished with imprisonment for a term which may extend to five years or with fine or with both."
Mohd Zaid urges the public who have further information about the incident to contact Investigating Officer Inspector Muhammad Azrul Nizam Zainal Abidin at 016-9985730.
Also read: Motorcyclist Who Robbed 51yo Woman In Car Park Arrested While Victim Suffers Injuries