11 Year-Old Malay Girl Sang on Chinese Singing Show, Gave Everybody Goosebumps!
Credit: tnp.sg
A Taiping girl, fresh faced at 11 year-old, has done Malaysia proud after she captured the hearts of judges and audience alike at a TV talent show for children in Hunan, China, earlier this month.
When you think singing a song very well is already hard, try singing it in a different language!
Adinda Tasya Mansor sung a ballad by Taiwanese singer Lin Yu-Chun in a reality show called "Let's Sing, Kids", and received a standing ovation from the crowd, with judges heaping praise on her The New Paper (TNP) in Singapore reported.
Malaysian-born Gary Chaw was one of the judges that night, and he was seen getting up and encouraging Adinda even before she finished singing.
He later told her in Mandarin: "I have goose bumps. Your performance was excellent."
Adinda, who studies at the Sin Min Primary School, a Chinese-vernacular school in Taiping, delivered the song "Next Stop In The Future" in well-enunciated Mandarin, according to the Singapore tabloid.
"I was so surprised and happy. I want to thank the judges, the audience and my teacher," Adinda told TNP in an email interview, referring to her vocal training coach Jacob Teo, 36, who runs a singing school in Kuala Lumpur.
"My Mandarin is okay and my sister speaks it, too. (But) I got a lot of help from my teacher.
"I sometimes needed him to explain the song's meaning to me and to help me with the lyrics," she was quoted as saying by the daily.
She also added that she was flattered by the attention, with the YouTube videos of her performance collectively gathering more than 750,000 views since they were uploaded just two weeks ago!
"I started vocal training because I wanted to learn more and sing well, rather than just singing on my own," Adinda said.
Adinda had auditioned for "Let's Sing, Kids" by submitting a video of her singing.
She then flew to Hunan with her mother for the first round, making her the first Malay contestant from Malaysia to compete.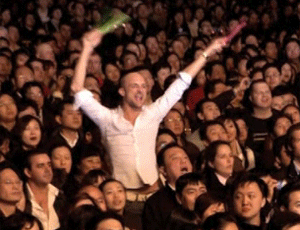 You go Adinda! Serious Malaysian pride right here! Watch her amazing performance below: