Watch: Drug Addict With Knife Climbs Up Street Sign, Fights PDRM & Bomba
There's a reason why they tell you to avoid drugs.
One drug addict in KL, who has apparently been creating chaos all over the city was caught on video evading arrest as he climbed up a a street sign and fought off police and fire fighters. The video was posted by SID (@Tsgxy_) to his Twitter page.
Jimbet penagih ni dah banyak kali sial kena tangkap dengan kitaorang. Bulan lepas je 3 kali. Minggu ni dua kali. Ni buat perangai lagi bawa pisau panjat tiang, abis bomba, polis semua dia tendang. pic.twitter.com/FF2EtET1NG

— ₆⁶₆ SiD²³ ₆⁶₆ (@Tsgxy_) December 17, 2019
SID wrote, "We've caught this addict multiple times. 3 times last month. Twice this month. This time he's showing his true colours by carrying a knife, climbing up a street sign, he's even kicking at the police and fire fighters."
In the first video, the addict can be seen hanging onto the street sign in between a fire fighter and a police officer. The fire fighter is visibly kicking the addict on the head as he tries to get the him down but he doesn't budge. The addict also throws a kick at the police officer below him.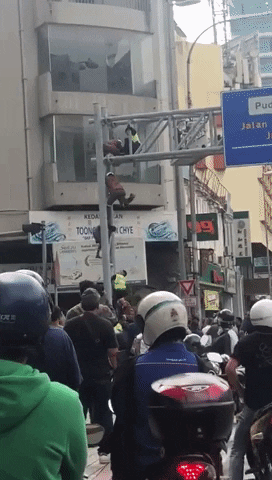 At one point, after the drug addict kicked a fire fighter on the head, he decided to latch onto the leg of the abang bomba above him. The fireman tried to shake him off but to no avail.
SID even posted a video to showcase how dangerous the addict is, where he can be seen dancing around the streets of KL while swinging around a knife.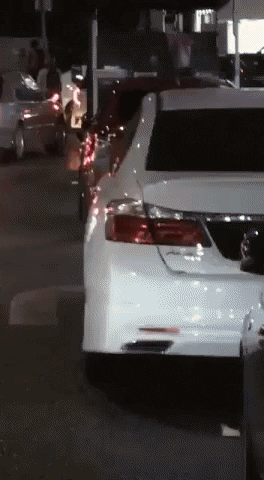 Considering his behaviour and how much of a beating the police and firemen are taking from him, we're surprised they're even still giving the time of day to try and capture him without harming him. If this was the United States, they would have probably just shot him by now.
Eventually, he fell to the ground, which leads us to believe that the brave men and women of our fire department and police force have managed to catch the man and put him away for good. Kudos, PDRM and Bomba!
Have you guys ever seen this man roaming around KL before? Let us know in the comments section below! 
Also read: Horrible Video Shows Old Kedah Man Raping Poor, Helpless Chicken