Video Shows Mountains Of Parcels Stuck At KLIA, Pos Malaysia Humbly Asks Public To Be Patient
One thing that hasn't changed since before the Covid-19 Movement Control Order (MCO) started is that Malaysians are still hardcore online shoppers.
Unfortunately, because of the MCO, courier and delivery services are finding it harder and harder to manage packages on time.
In fact, a video posted by Lady Boss (@kaymanbeaustore) showcased mountains after mountains of packages stuck sitting in the Pos Malaysia International Hub in KLIA, awaiting to be shipped.
Untuk mana2 yang tanya kenapa barang still stuck and tak gerak dari KLIA HUB, korang kena tengok video ni. Nilah sebab dia ya . Memang banyak barang stuck. Harap semua bersabar especially seller dan buyer 🥴😩

Sumber : facebook Adella Mohd Noor pic.twitter.com/5kzfRQqViQ

— Lady Boss💫✨ (@kaymanbeaustore) April 29, 2020
She wrote, "To those asking why their packages are still stuck and have not moved from the KLIA Hub, watch this video. This is the reason. A lot of packages are stuck. I hope everyone can be patient, especially sellers and buyers."
It's obvious that the good folks working with postal services have their hands full, based on the video.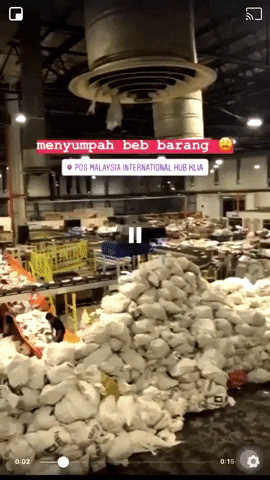 Pos Malaysia Berhad took to their Twitter account to highlight the matter and shed light on the situation.
Para pelanggan yang dihargai,
Pos Malaysia telah menerima secara purata lebih 600 ribu parcel setiap hari semasa tempoh PKP. Kakitangan kami tekun menjalankan tugas untuk memastikan semua parcel diserah kepada penerima. https://t.co/ydPkPVgyjL

— Pos Malaysia Berhad (@pos4you) April 29, 2020
They wrote, "Dear customers, Pos Malaysia receives on average 600,000 parcels daily during the MCO period. Our staff is committed to ensuring that all parcels are delivered to the recipient."
"However, our operating hours are in compliance with the MCO's guidelines. We will do our best to ship your goods and hope that you can be patient. Your cooperation is high appreciated," they added in their thread.
It is understandable to be excited about newly purchased items, but it's also clear that the influx of parcels and purchases are a little overwhelming for our friendly postal workers.
Maybe a little patience won't hurt?
In fact, for those who own a van and are looking to earn a little extra with it can sign up with Pos Malaysia to help them deliver the stuck parcels!
What do you think about this? Let us know in the comment section.
Also read: Beware: Pos Malaysia Warns Netizens Of Scammers Impersonating As Pos Laju Representatives