This Terengganu Man Is Proud He Caught a 140kg Fish, But Here's What Netizens Say
Catch and release fishing is a practice that is most common amongst anglers in America or Europe.
Wrestling with the fish, catching it and watching it swim away should be the practice of Malaysian anglers, not keeping them. Here's why.
Responding to a tweet by @999Malaysia, which featured a 140kg Grouper (Kerapu Kertang) caught at Kuala Dungun, Terengganu, a netizen criticised those involved for catching the fish and keeping it.
Kenapalah ditangkap kerapu ni. Umur dia dah berpuluh, mungkin beratus tahun, genetik dia bagus. Patut dilepaskan semula supaya generasi kerapu akan datang lebih kuat. Tangkaplah kerapu yang kecik tu. Daging yang ni bukannya sedap makan pun. Liat, penuh parasit dan toksik https://t.co/H9aKbqe72x

— Aizad Fahmy (@aizadfahmy) March 29, 2019
The tweet which writes, "Why is such a fish not released? A fish of that age has very good genetics."
"It should be re-released to ensure that the future generations are much stronger genetically."
"It is ok to catch the smaller ones. The big ones don't even taste that good. It is tough and full of toxins."
The angry outburst of the netizen has some truth to it.
According to the Environmental Defense Fund, large fish are disproportionately prodigious in their reproductive output.
It adds that there is a good reason why a species' population show a lot of variation, i.e. to aid in survival.
On another note, the tweet also mentions about the increased risk of being poisoned through consumption of large fish because of a process called biomagnification. Basically, chemicals like mercury tend to concentrate in animals higher up on the food chain.
Though the level of mercury may not be as prominent in smaller fish, it is the larger ones that prey on smaller fish which will have detectable concentration levels of mercury in them.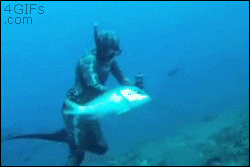 "There is a steady build-up of this form of mercury in aquatic food chains, such that long-lived fish at the top of the food chain are highly enriched in methylmercury."
With the grouper categorized as a predator in the food chain, reports suggest that there is clear evidence there are high amounts of mercury in its tissue.
But before you push ikan bakar from your diet entirely, it is important to note here that only certain fish are prone to biomagnification according to the FDA (US Food and Drug Administration).
In general, the FDA recommends avoiding high mercury fish such as marlin, bluefish and grouper.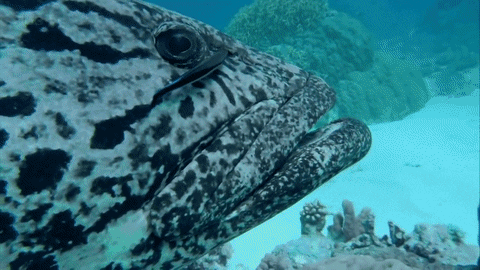 It does not end there.
Eating other fish including barracuda, moray eel, amberjack sea bass, sturgeon, and in this case, grouper can increase the risk of Ciguatera fish poisoning (CFP). It's basically the same as mercury toxicity except with a toxin called ciguatoxin.
It is not wrong to reap the benefits of your hard-earned labour, but if we were to ensure that the sport of fishing and the livelihood of fishermen in the years to come are kept alive, we should do our part by first adopting a catch and release policy for larger fish.
After all, it's the thrill of the catch that matters anyway.
Also read: This Man Unexpectedly Finds a "Snake" Living in His Fish Pond, Sells It For Over RM13,000