Poor Sun Bear Seen Wandering Aimlessly After Habitat Destroyed By Logging In Pahang
Malaysia was once celebrated for its rich rainforests and biodiversity. Sadly, it seems that we are wiping out our trees and wildlife faster than you can say 'apartment complex'.
It's gotten to the point where animals who call these forests home are wandering aimlessly, unsure of where to go.
The Malaysia Animal Association took to their Facebook page to showcase a sun bear wandering through a logging site.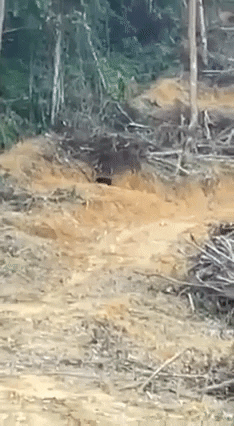 They wrote, "A sun bear with a leg injury has lost its direction after its habitat was destroyed by logging. It is informed that this location is in Kuala Lipis, Pahang, where large-scale logging is being carried out. It is not for development purposes but the land is left bald without reforestation, causing wild animals to appear and roam aimlessly."
The poor bear could be seen wandering helplessly through the site. At one point, it can be seen standing on its hind legs to survey the destruction.
"The Pahang State Government needs to change immediately to prevent more deforestation from happening every month,"
"Deforestation and logging will not only destroy wildlife habitats but will invite disasters to humans such as major floods, greenhouse effects, oxygen depletion and global warming. Our country will also be recorded as a nation that destroys nature," they added.
Their message was clear,
"Malaysia needs to change. Stop logging!"
How can we pride ourselves as a nation if we cannot protect our rich biodiversity and lush rainforests? Authorities need to consider reforestation as much as deforestation continues.
You can watch the saddening video here.
What do you think about this? Let us know in the comment section.
Also read: What If The Covid-19 Virus Was Meant To Wipe Out The Human Race?