PM Muhyiddin's Visit To Sarawak Eatery Causes Controversy Due To Lack Of Physical Distancing
Our Prime Minister, Tan Sri Muhyiddin Yassin was recently in Sarawak for a work trip, where he managed to visit a popular local eatery to enjoy a bowl of Mee Sapi for breakfast.
The stop at the restaurant seemed like a simple break from his schedule for a quick meal, but netizens quickly pointed out that things were not as simple as that, as SOPs at the premises during the Prime Minister's visit quickly went out the door.
As showcased by the @twt_borneomy Twitter page, a crowd of people can be seen swarming around the Prime Minister as they took pictures of him during his visit. Some of those in the crowd were enforcement officers, who also had their phones out.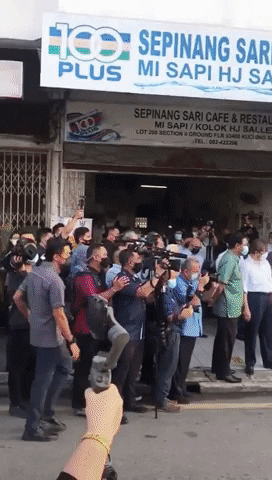 They wrote, "The 'liveliness' at the Mee Kolok Haji Salleh restaurant when the Prime Minister arrived to enjoy breakfast."
A rather large crowd could already be seen standing around, with no sense of physical distancing, as the Prime Minister's convoy arrived at the location.
The moment Muhyiddin got down from his vehicle, those who were standing around swarmed closer, and people who were across the road from the establishment joined in as well, creating a chaotic crowd.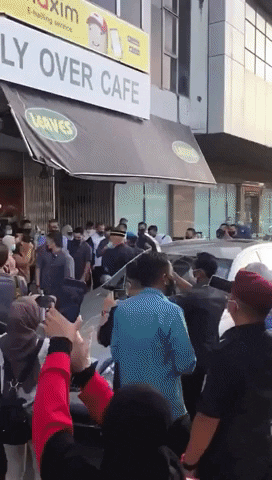 But, what's most disappointing was the fact that multiple enforcement officers were present at the scene. Yet, no one was controlling the crowd or enforcing SOPs. Instead, they too pulled out their mobile phones to document the Prime Minister's arrival.
While many pointed out the lack of physical distancing and the lack of action being taken by the officers at the location, others also took the opportunity to add a little humour to the mix.
The commentor asks, "Are the police taking pictures to prove the flouting of the SOPs?"
While the other replies, "They're all trying to scan the MySejahtera QR code."
All jokes aside, the Prime Minister may have been vaccinated but it's doubtful that those who are there to take pictures have also taken the vaccine and may still be vulnerable to the virus.
We genuinely hope that the authorities look into properly implementing the SOPs and enforcing them during such events.
What do you think about this? Let us know in the comment section.
Also read: PDRM Officers Under Investigation For Smoking At Kelantan Restaurant Despite Smoking Ban