Old M'sian Man Beaten To The Ground After He Tried Stopping Tow Truck Driver From Taking His Car
Getting your car towed can be a stressful situation.
But that doesn't mean that you can take out your anger and frustration on the people towing your car, as at the end of the day, they are just doing their job.
SanjeevanSS took to his Twitter account to showcase a video of an elderly man raising his umbrella as a threat towards a government tow truck driver who was trying to tow his car, probably because he parked somewhere he shouldn't have. At one point, the elderly man ended up hitting the driver with his umbrella, in response to which the tow truck driver ended up throwing the old man to the ground, causing some injuries to the old man.
Mohon @PDRMsia ambil tindakan segera….. pic.twitter.com/dOPn6cb9v3

— DSSR ஸ்ரீ சஞ்சீவன் (@SanjeevanSS) February 13, 2020
Dato' Sri Sanjeevan wrote, "PDRM, please take immediate action."
He added in his thread that the old uncle was in the wrong for provoking the tow truck driver but then again, the driver should not have beaten and thrown the man to the ground, causing a bleeding gash on the old man's forehead.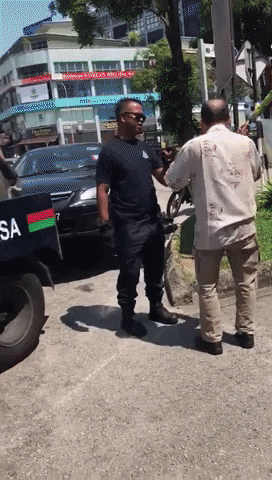 "The uncle is in the wrong for provoking first, but the uncle was beaten till he bled, which is a bigger crime. Secondly, no one knows if the uncle has any mental illnesses. If the uncle is found to be a 'mental patient', the driver will be in even bigger trouble," he added.
Netizens decided to take to the thread to leave their opinions, many adding that the tow truck driver had the right to do what he did as he was defending himself.
This comment goes, "If they go to court, the uncle is the one who will be punished. He started it and the other man was just defending himself."
This comment reads, "So stupid, he's so old! Just block him. Why would you go so far as to break the old man's head like that?"
Truthfully, we understand that the old man is at fault considering he did hit the driver with the umbrella first, but it seems completely unreasonable for the driver to use that much force when defending himself. He could have easily stopped the old man's attack without getting anyone hurt.
Dato' Sri Sanjeevan's posting has since garnered over 393 retweets.
What do you guys think of this? Let us know in the comments section.
Also read: M'sian Students Arrested After Video Of Them Assaulting Victim As The Rest Cheered On Goes Viral