"#KoyakToYouToo Malaysians!" Israeli Content Creator 'Exposes' the Malaysian Troll Army
Following the events that have transpired between Israel and Palestine, Malaysians have taken to social media to express their support of the Palestinian people by calling out the Israeli people for their country's actions.
While some Malaysians introduced the Israeli people to words like 'koyak' by spamming it in the comment section of their social media pages, others have apparently taken to 'hacktivism' to get their message across.
So much so, that Israeli content creator, Emily Schrader, made a video, which she shared on her Twitter account, to call out Malaysian hacktivists for failing to comply with social media community standards through their targeted harassment.
She wrote, "Israelis were harassed and threatened in an antisemitic campaign by Malaysian activists during Israel's last operation, and research shows there's a connection to Gaza. Social media networks are failing when it comes to combating targeted harassment."
"It's a digital war" 
Some of the things she pinpointed in the video include:
Malaysians spamming, harassing and making threats on the social media accounts of Israeli people, while also removing and blocking the accounts of Israelis.
Malaysians hacking into the WhatsApp accounts, including those belonging to high-ranking government officials and one belonging to the IDF Arabic spokesperson (which forced him to change his phone number).
Malaysians spamming and harassing Gal Gadot's social media account, leading her to turn off her comment section.
"This isn't just hacktivism, it's a digital war."
She shared how her account was blocked after Malaysians had allegedly used fake passwords in an effort to log in.
"Using Telegram, Malaysian activists created channels such as the Team Suspend Twitter, in which they repeatedly logged into accounts with fake passwords in order to block these accounts. Including, by the way, my account," she said.
She also shared that Malaysian groups such as Dragon Force Malaysia had disseminated the WhatsApp information of the Israeli people and 'included specific instructions on how often to tweet, how often to comment, which VPN to use, which countries to say you're from, as well as how many times to try and hack into an account in order to get it removed', in their effort to target harassment towards them.
Schrader then called out social media platforms such as Facebook, Twitter and Telegram for failing to combat this targeted assault.
Against community standards
"Oh and by the way, yes, using social media for targeted harassment is absolutely against community standards for any of the social media platforms. So, why aren't they doing anything about this problem?"
"Twitter, Telegram and Facebook are all failing when it comes to combating targeted harassment on their platforms," she added.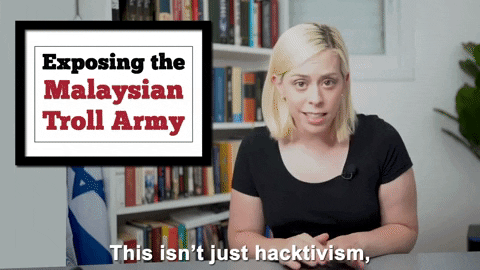 "#KoyaktoyoutoMalaysians"
She later shared that if her video calling out the 'Malaysian Troll Army' received a million views, she would post another video of herself, this time waving the Palestinian flag, and has since fulfilled her promise, though she waved the Palestinian flag from 1939, which features Israeli colours and the Star of David.
She then pulled out the Malaysian flag and shared, "Now, this is not for all of you Koyak Malaysians, but it's for the Malaysians that are oppressed by you people, the people in Malaysia who are oppressed for their religious or political beliefs."
She also added a "#KoyakToYouToo Malaysians!" in her post.
WORLD OF BUZZ has since reached out to Schrader for comment but have yet to hear back.
What do you think about this? Let us know in the comment section. 
Also read: M'sian Group Allegedly Hacked Into 5,000 Israeli CCTVs Including Residences & Govt Buildings