Boy Sits Dangerously Out of Moving Car Window As It Drives Through Johor Neighbourhood
Parents, parents, parents.
It's understandable that kids may be difficult to control sometimes but the whole point of parenting is figuring out how to best discipline your child to not only raise kind and respectful children but also to ensure that they actually stay alive.
MyWatch (@My_CrimeWatch) took to their Twitter page to showcase a video taken in Johor via a dashcam, where a car can be seen with a child literally sitting out the window as the car is moving.
Takkan bapa dia tak tegur yang aksi anak beliau ini membahayakan nyawa? Dirakam di Sri Alam, Johor. pic.twitter.com/fKtaoufpHX

— MyWatch (@My_CrimeWatch) September 30, 2019
MyWatch wrote, "Don't tell me his father didn't say something about his son's actions that could endanger his life. Video taken in Sri Alam, Johor."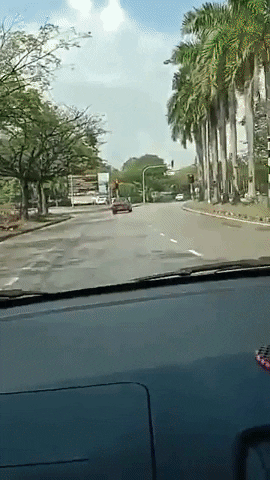 The scary part is that it's not like there's anything for the boy to hang on to on top of the car's roof, hence if he slips, he might sustain some pretty bad injuries.
Netizens are taking to the thread to comment on why the driver taking the video did not horn at the kid so that the father is warned though, other netizens had theories of their own.
This comment goes," Just horn at them, drive next to them and say something, don't have to record."
This comment says, "Many are telling him to just horn at them. No need to record. When the boy's father argues back saying 'Mind your own business', then they'll understand. So, taking a video is the easiest way to deal with idiotic parents like this."
This boy's parents need to seriously re-evaluate their parenting style before their kid makes sitting out the car window a routine and hurts himself.
Parents need to be better than this to ensure their own children's safety. 
Also read: "It's the Parents' Fault, Not the Driver's," Netizens Share After Kelantan Boy was Hit by Car