PDRM Kuantan Reprimands Food Kiosk Staff For Not Wearing Masks The Correct Way
The sole reason of wearing a mask is to ensure minimal risk of cross-infection of the Covid-19 virus.
Which is why it's most important to ensure you're wearing one properly and that you don't get fined by the authorities if you don't or choose not to wear one entirely.
The Info Roadblock JPJ/POLIS Facebook page took to their profile to showcase food kiosk staff at East Coast Mall, Kuantan, getting approached by PDRM officers for not wearing their masks properly.
OCPD Kuantan, Tuan ACP Mohamad Noor Yusof Ali menegur pemakaian pelitup muka (face mask) yg tidak betul ketika buat rondaan di sekitar ECM bandar Kuantan semalam..#inforoadblock

Posted by Info Roadblock JPJ/POLIS on Sabtu, 1 Ogos 2020
They wrote, "Kuantan police chief Asst Comm Mohamad Noor Yusof Ali reprimanded those who were not wearing face masks properly while he was doing his rounds around East Coast Mall, Kuantan."
He also asked for their identity cards before walking away (perhaps to issue them a fine).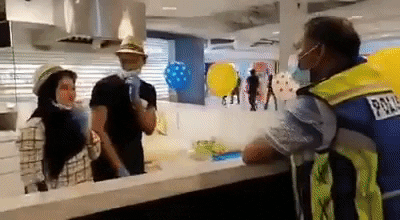 What's sad is that these staffs don't actually earn a lot, which means after paying off the RM1,000 fine, they wouldn't have much left to survive the rest of the month unless they have savings.
But it's difficult to sympathise with them when the authorities have already mentioned time and time again that everyone is to wear masks properly in public places and that those who do not adhere will have to face the consequences.
Plus, if you're going to wear a mask and hang it below your chin when you're not eating or drinking something, it's still equivalent to not wearing a mask because it's not covering what it's supposed to cover.
Hence, the safest and least money-consuming way to live at this point is to just wear your masks properly and according to the guidelines set by the authorities.
It's not that hard. 
Also read: Here's Where You Should & Shouldn't Be Wearing Your Face Masks