Man Transforms His Bicycle Into An Exact Replica Of a Kawasaki Ninja, Blows Netizens Away
Asians have always been creative when it comes to modifying their vehicles to look like something that is more desirable to them.
From small, low cost vehicles turning into mini monster trucks to a Proton Iswara being completely facelifted into a supercar, Asians will stop at nothing to get the vehicle they want, even if they can't afford it, even if it's not exactly the real thing.
Yeap, that's a Proton Iswara in there.
But one Indonesian man took his automotive dreams to a whole new level as showcased by You (@maswanz) in a now-viral Twitter posting. The video, shared from a WhatsApp group, showcases someone winding down their car's window to greet a motorcyclist on a green Kawasaki superbike, though as the superbike enters the full view of the camera, you'll notice something very odd.
The motorcyclist is peddling!
Repost dari WA Group entah dapat darimana..

GAK NINJA GAK DICINTA!! pic.twitter.com/z6V0GQUXdZ

— You (@maswanz) July 18, 2019
You captioned the posting with, "Reposted from a WhatsApp group, not sure from where. Quite like a Ninja, quite lovely!"
Another netizen, Katina Setya (@katinasetya) took the You's thread to share her encounter with the sneaky Ninja.
Kemaren Senin jg ketemu si bapak ninja 😄 pic.twitter.com/OcYObdH6lA

— Katina Setya (@katinasetya) July 18, 2019
She captioned her posting with, "I bumped into the Ninja on Monday."
Netizens have since taken to the thread to share their awed reactions to the super-bicycle.
This comment goes, "When your heart wants to 'rempit' but you don't want to put yourself in danger."
This comment says, "It's called being environmentally friendly."
This comment reads, "Sooo creative!"
And let's not forget to mention the effort and attention to detail the super-bicyclist put in to make sure his 'superbike' looked as close to the original as possible. We had to look twice before we realised what we were seeing!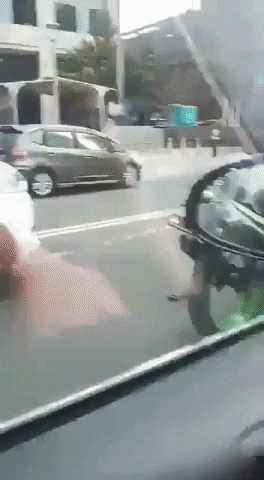 You's posting has since garnered over 15,400 retweets.
We'd love to see more of these on the roads! I mean, it is eco-friendly and promotes exercise. 
Also read: Did You Know Gardenia Products are Sold For Almost 3x the Price in Sabah and Sarawak? Here's Why