M'sian Man Sells Tudung Under Hot Sun To Get Money For Diapers & Milk For His Child
So as we prepare to move into stage 4 of having the economy suffer further than it already is, we focus on this man, who does what he possibly can to earn the money his family needs.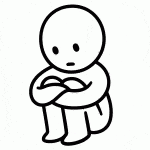 Based on a post by Alin Taharin on Facebook, a few pictures of this man selling head shawls (tudung) on his motorcycle were circulated. According to the pictures, there was one with a signboard written how he was selling the tudung(s) to attain some money to buy some diapers and milk for his child.
The user also shared how he parked his motorcycle, with the tudung(s) hanging on it, and waited under the hot sun at the Petronas Seberang Jaya area for customers. The post of course garnered a lot of attention from netizens, sympathising with the difficulties he is facing just to find money for his family.
One user said, "May all his ventures be eased, Amin", while another said "We pity him and his family, but only they will understand what it feels like". One more user said, "We need some information, or a bank account number of this brother", intending to help.
What do you think about this? Let us know in the comments!
Also read: Man Who Lost His Job Because Of Covid-19 Steals A Sack Of Rice To Feed Himself & His Family