Kelantan Man Takes 200kg Python On Joyride To Be Handed Over To PERHILITAN
Recently, a video of two people taking a HUGE python on a joyride has taken Malaysian social media by storm.
In the video, the giant batik python could be seen wrapped around a motorcycle rider's waist, while a young passenger sat behind him. Thankfully, the python seemed to be in a tame state.
Based on a report by Harian Metro, the snake is believed to weigh more than 200 kilogrammes.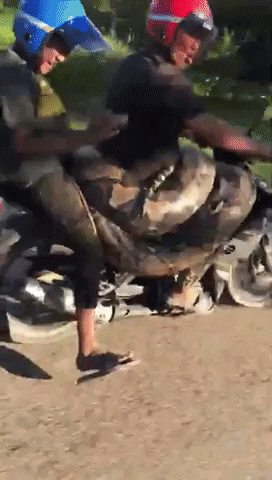 Datuk Abdul Kadir Abu Hashim, the Director-General of the Department of Wildlife and National Parks (PERHILITAN) of Peninsular Malaysia shared that the incident is believed to have happened in Kuala Krai, Kelantan on 29 May.
He shared that the python had been caught at a rubber plantation in a village in Lubuk Simpul, Kuala Krai at around 6pm, by the 34-year-old owner of the plantation.
"They were worried that the large python could threaten the safety of the residents. Following that, the python was then caught and taken on the motorcycle to be handed over to PERHILITAN,"
"Earlier, they had contacted the Kuala Krai Wildlife staff at 12 noon, to inform them of the delivery of the wild reptile," he said.
Kadir added that the owner of the plantation has since apologised as he did not plan for the video to go viral.
"The batik python was then handed over to PERHILITAN at 2pm on Sunday, before being placed temporarily in a Kuala Krai PERHILITAN cage," he said.
While the incident does look scary and dangerous, we're happy that no one, including the snake, got hurt.
What do you think about this? Let us know in the comment section.
Also read: Selangor Shelter For Stray Cats Deemed "A Torture Centre Where Cats Wait To Die"