Here's 10 Things Najib Said When Asked About The Alleged 1MDB Money
Back in July 2, allegations of $681 million or RM2.6 billion in Najib's accounts first surfaced in a report by The Wall Street Journal (WSJ). Although WSJ said the source of the funds were unknown, but it came through 1MDB-linked entities in various tranches was channelled to Najib's accounts in March 2013, ahead of the general election in May that year.
In light of these allegations, here are some statements or reasoning that were thrown to the public since day 1 till now:
1. …
No immediate response given by the Prime Minister when questioned about the money. In fact, the question still hold till now.
2. "white people" should stay out of Malaysia's administrative affairs
This statement was particularly directed at journalist Clare Rewcastle-Brown for Sarawak Report which published 1MDB controversies and having Najib linked to the scandal.
3.  I have never taken funds for personal gain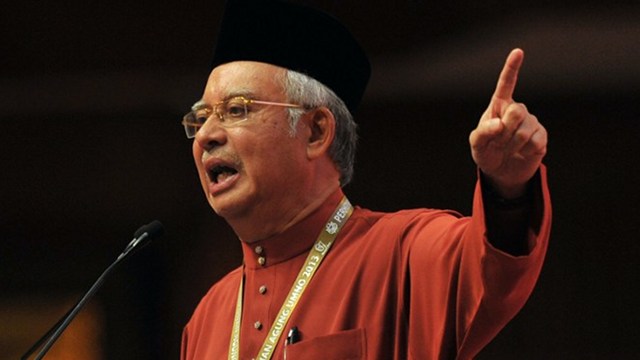 ..whether from 1MDB, SRC International or other entities, as these companies have confirmed.
Najib pointed out that documents published by WSJ is used to discredit Putrajaya and the Finance Ministry-owned 1MDB.
4. Tun M is mastermind of the false allegations
Najib Razak says that, "I believe Tun (Mahathir), working hand in glove with foreign nationals, including the now discredited political attack blog Sarawak Report, is behind this latest lie" and that they were a 'concerted campaign of political sabotage to topple a democratically elected Prime Minister'.
5. Sue Wall Street Journal!
nai
Najib slammed on the accusations, claiming them as "vile" and "malicious". He threatened possible legal action towards WSJ, pursuing the case both in Malaysia and abroad.
Quote: "I refer to the vile allegation against me that I stole $700 million belonging to 1MDB and deposited it into my personal account. God willing, I will make a decision in the next few days on what action I will take against this malicious allegation."
6. I am not a thief
"I am not a traitor and will not betray Malaysians and Malaysia."
Home Minister backed the statement by saying, "Allegations and insinuations are being made against a serving Malaysian prime minister. The ministry and police will not hesitate to use the full force of the law against those who attempt to harm Malaysia's economy and our democratic process."
7. Food, shelter and education were more important priorities for the people
Najib downplays the 1MDB issue by shifting focus on 'the people'.
He says, "the people's needs are much more important than alleged scandals involving 1Malaysia Development Bhd (1MDB). What do the people want? Food on the table, shelter, a halal living, schools and education for their children. These are what we should be focusing on."
"The 1MDB issue is not the most important thing. As members of the party, I want us all to focus on our main duties,"
8. The decision to replace Tan Sri Muhyiddin Yassin was very difficult, but leadership is about doing what you think is right.
Besides sacking his deputy, Najib reshuffled the cabinet by removing a few other ministers. The sacking was after Muhyiddin said that the ruling coalition could lose the next election if Najib and others did not better manage issues stemming from the 1MDB scandal.
It happened about the same time a leaked video of Muhyiddin confessing Najib's 'big' money went viral on Malaysian facebook feed.
9. Money are from donations
"Whatever donation was given to us was from a friendly nation, not a nation that is much stronger than us like the US," said Malaysia's Tourism Minister Mohamed Nazri Abdul Aziz. "But this is a brotherly nation who wants to see certain parties win in the general election because we're friendly to them – there's nothing wrong."
10. Donations are from Middle East
Apparently the money from generous donors of middle east is for combating ISIS.
"It was an appreciation to Malaysia for championing Islam and for practising Sunni Islam (Ahli Sunnah Wal Jamaah)," said Kuantan Umno division chief Wan Adnan Wan Mamat.
To which Suara Rakyat disagreed:
What's next? That he inherited that money after receiving email saying he's related to a Saudi Arabian prince?