7 Things Every Malaysian Who Has Taken Care of Kids Before Will Understand
Have you ever taken up a part time job as a babysitter, or been given the responsibility of dai kor/ dai jie to look after your younger siblings, cousins, nieces, or nephews while the grown ups were out? Don't worry, I know that feeling.
Well, if you've ever been "lucky" enough to endure the babysitter life, here are some things you definitely had to go through once before:
1. Having to play little kiddie games like hide-and-seek or masak-masak
"Jie, cut the carrot for me ok!" "Yes, chef…"
You have to admit though, it can be quite fun.
2. That mini heart-attack you get when you suddenly realise the house is quiet… too quiet
Best case scenario is that the kids fell asleep. Worst case scenario is they're somewhere in the house making a mess of things, or stuffing non-edible objects into their mouths. Omg, nightmare.
3. When you become the cool jie jie or kor kor because you love spoiling them
The perks of being a babysitter or "cool auntie/uncle" is that we don't have to worry about disciplining the kids. That's their parents' jobs. 😛
Instead, we like to manja and spoil them with candy or junk food whenever we can, making us their favourite jie or kor in the whole wide world. Sometimes, when you spoil love them enough, you can even get them to do stuff for you! "Ah girl, go take jie jie's shirt from the cupboard please, thank you!"
4. When they suddenly realise their parents are missing
My ears are still ringing from all the high-pitched screaming.
And then having to lie and say "mummy went out to buy sweets, she's coming soon", padahal, she's only coming back in a few hours.
Unfortunately, after a few times, kids learn not to believe us anymore, and this usually means it's time to bring out the big guns; and by "big guns" we mean the TV remote to switch on their favourite programs like 'Baby Shark' by Pinkfong.
5. When you're in a crowded place and they reach out to hold your one finger
*Melts*
Kids can be a handful at times, but nothing beats having a kid reach out to you to hold your hand, or finger. It's just nice to feel needed, y'know?
6. Doing everything in your might NOT to rotan the kid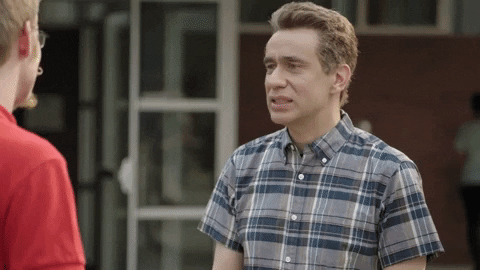 Simply because:
It's going to start WWIII
They'll scream and shout and let it all out
Their parents might rotan you back
7. Switching on their favourite TV show to keep them entertained
This not only keeps them occupied, but showing them the right programs can be educational too. After all, early childhood education begins at home. Also, watching TV actually helps improve language skills! And let's admit it… as embarrassing as it is, sometimes you end up digging videos like 'Baby Shark' by Pinkfong as well. Catchy ma!
Well, if your kids are a fan of Pinkfong, you can opt to entertain them by letting them speak on the phone with the one and only Pinkfong too! It's true! Pinkfong wants to chat with your kids!
So grab your phone and click here now for a FREE phone call with the adorable Pinkfong!
Alternatively, you could get this kid-friendly Pinkfong program and access over 350 Pinkfong songs to entertain the little ones at home on your TV, on demand!
That's right, the lovable cartoon character that brought you the song 'Baby Shark' is bringing even more catchy tunes to your home! Time for more sing-alongs and less tantrum throwing!
Here's how you can get it:
Simply connect your Astro decoder to the WiFi to access On Demand and get a sneak peek of Pinkfong songs, OR pay RM7 for the exclusive Pinkfong on demand pass to access all 350 Pinkfong songs!
Find out more about this awesome Pinkfong package here, and don't forget to give Pinkfong a call!