Valentine's Day is fast approaching and – regardless of your relationship status – we're all hoping to get through our dates in one piece, without any mishaps or embarrassing moments.
Well, this V-Day, before you set out on that romantic adventure with bae, make sure you remember some of the important do's and don'ts that come with dating. Here are some helpful pointers you die-die have to remember, as told by everyday Malaysians:
1. "Malaysian timing" does NOT apply during dates, ALWAYS be early
"Especially if you're meeting your date at the restaurant, make sure you're on time, at least! This applies to both genders by the way.
My date and I agreed to meet at this restaurant at 7.30PM. He seemed like a pretty great guy. Complete gentleman who knows how to treat a girl right.
On date night, I arrived at 7.30PM, on the dot. Was pretty excited to meet the guy! Until 15 minutes passed and he still hadn't shown up; before I knew it, it was one hour later before he finally arrived! By then I was already annoyed and I just wanted to leave.
Timing is everything guys, don't be tardy!"
– Jane, 27
2. Ask questions and be interested in your date. Don't spend the entire date just talking about you or your ex(es)
"Went out with this guy awhile back who couldn't stop talking about himself. Ugh!
Even when he asked me questions about my life, I could only reply with one or two sentences before he would interrupt me and start talking about himself again.
When he wasn't talking about himself, he would complain non-stop about his ex and list out everything he hated about her.
It was a huge turn off."
– Edelyn, 24
3. Dress appropriately. First impressions are everything!
"I didn't notice it at first but halfway through our date, I glanced downwards, and to my horror, this guy I was strolling in the mall with was wearing a pair of sandals with socks! I took a step to the side and made sure there was a good enough gap between us because… I mean, just look at it!
I felt so embarrassed and prayed so hard, hoping nobody else saw his "shoes". I was mentally killing myself with each passing minute.
I couldn't wait for the date to be over. It goes without saying that sandals and socks, Crocs, or even flip flops are a huge no-go during a first date!"
– Tan, 25
4. Be courteous and considerate. Don't order the most expensive item on the menu just because you think the other person will pay
"Met this girl from Tar College, picked her up for our date and she was dressed in her house clothes. That was fine, but then we went for fish and chips, and she decided to order the most expensive set on the menu; not only that but she talked about her ex all day long too.
Towards the end of our meal when we called for the bill, she gave me death stares because she wanted me to pay. I didn't mind paying, but gurl, you didn't have to give me death stares.
Drove her home, no second date."
– Juin, 27
5. Never lie about, or "oversell" yourself to the other person
"I had been chatting with this guy online for awhile now and based on our chats, he sounded like a very cool guy, macam yes. Told me he flew around the world a lot and worked in many western countries before, but when we finally met up face-to-face, he couldn't even speak English properly. There were so many grammatical errors, I CANNOT.
I blocked him after that."
– Choo, 28
6. Always make sure you have enough CASH on you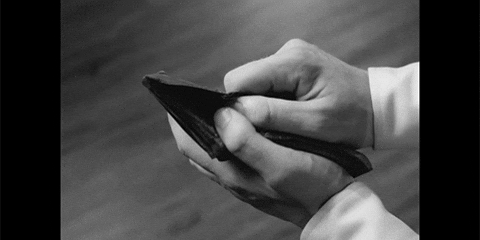 "This guy tried to impress me by taking me to a fancy restaurant. I wasn't expecting it but because the items on the menu were insanely expensive, I suggested we should just have dessert, and leave.
When the bill came, he looked at me and said "you're paying right? I don't have any cash on me". I was fuming. I didn't mind paying, I just wish he would've told me earlier. Worst part was, of all days, I left my purse at home, and I NEVER leave my purse at home. I wanted to die.
Long story short, he had to call up his sister to transfer money into his bank account before he could pay. So, whether you're the guy or the girl on a date, ALWAYS HAVE CASH ON HAND, and remember to check if your wallets are with you or not."
– Foo, 24
7. You might wanna double, even TRIPLE check your breath

Source: YouTube
"This date was like none other. It was foul… literally. I went out with a guy and we seemed to be hitting it off quite well when halfway through I realised I was trying really hard not to cringe and hold my breath every time he spoke.
He was a great guy and everything, he dressed and spoke well but his breath reeked of garlic and onions! I found myself inching further and further away from him because I couldn't take the smell. It was one of our first dates, so I didn't have the heart to tell him about it either. Wasn't sure if it's because of what he ate, or if it was his hygiene in general.
I just avoided going on anymore dates with him."
– Sarah, 23
There you have it, seven very valuable lessons to learn from before going on your next date! If you have some lessons yourself, let us know in the comments! Help a brother or sister out mah! Just remember to always run through your outfit or pick-up lines with friends and get someone you can trust to check your breath for you.
Don't potong stim for your own dates anymore! Take extra precaution and remember to always keep your breath fresh and clean. You can do so by making sure you brush your teeth before you head out, not eat any pungent nor strong-smelling food, and, most of all, use LISTERINE!
This mouthwash cleans 6X better and kills 99.9% of the germs in your mouth that brushing misses to help prevent bad breath, plaque and gum problems! It also makes your mouth feel minty fresh! Confirm she'll text you back after that first date.
Besides the ever-popular LISTERINE Cool Mint, there are also multiple other varieties to choose from, some of which include LISTERINE Total Care Zero, LISTERINE Natural Green Tea, and much more!
So, before your next date, make sure you avoid anymore awkward and embarrassing encounters by following these tips!
You can find out more about using LISTERINE and the different flavours and intensity here!