7 Things All Last-Minute M'sian Millennials Have Confirm Done to Save Time
Malaysians, regardless where they grew up, are (unfortunately) known for their horrible timing and inability to ever be on time to anywhere, let alone be early. Some of us have even been late for job interviews! And because of this, we've adapted and learnt a thing or two about what it means to be "efficient" and doing things a bit differently to save time. Here are some last-minute things you might be guilty of relate to:
1. You wear a cap or tie up your hair to avoid needing to style, straighten, or blow it
You can tell a lot about a person by the way they style (or don't style) their hair. It's one of the most noticeable things about a person after all. That's why, whenever you have no time to tame your crowning glory, the next best–and most efficient–thing to do is to cover it up completely.
2. Wearing a cardigan or jacket over your very old and crumpled top to look a bit more presentable
This here is an important life-hack that managed to get us all through uni and busy workdays without looking too unkempt. This was especially useful during those weeks where we had no time–or were too lazy–to do our laundry. I relate to this on a spiritual level.
3. Eating your breakfast at work or during class
We can forget about eating breakfast at home because by the time we wake up, we only have about two minutes left to prep and head out the door. But we can't possibly skip breakfast, can we? So we have it at work or during class! Odds are, five other people sitting around you are doing the same thing.
4. Double-parking right outside the place you're supposed to meet your friends instead of looking for proper parking
We all know that parking anywhere in Klang Valley–especially during peak hours–can be close to impossible. So the next best idea is, of course, to double-park first and then think later.
5. Brushing your teeth and getting dressed at the same time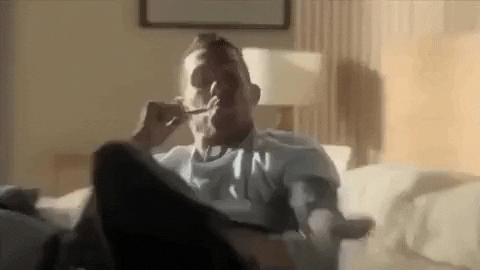 We have two hands, so might as well do two things at once instead of focusing all your energy on just one activity.
6. Cup noodles all day, every day because you always have no time to eat properly
It only takes three minutes to make, and albeit being slightly unhealthy, it tastes good and can keep our tummies filled… for awhile.
7. Using your mobile banking app for everything
Especially when it comes to making payments during lunch or paying back your friend, everything's so much more convenient with a mobile banking app, especially since banking apps make things so quick and easy now. It's especially helpful when you're in a hurry during lunchtime and can't queue at the ATM. Definitely a lifesaver.
CIMB Bank, for instance, is releasing a brand new SecureTAC feature in its CIMB Clicks app! And it's perfect for people like us who have no time to waste!
This new feature will allow you to authorise mobile app transactions with ease and carry out one-tap approvals. It's so simple and much safer too. Here's a step-by-step on how to activate this new SecureTAC feature:
Open your CIMB Clicks app and verify your transaction details
Scroll to the bottom and click Approve!
And you're all set!
Once activated, your mobile phone will be paired with your CIMB Clicks credentials, and only transactions approved via recognised devices can be processed. With this, you no longer have to wait for the SMS TAC and manually key it in every time you make a transaction! Simply tap "Approve" after confirming your transaction details and BOOM, you're done. So convenient!
But if you–or anyone else– try to use an unauthorised device to carry out transactions with your account, they will be asked to input the SMS TAC number manually which only your authorised device will receive. Also, SecureTAC can be activated on up to two devices. Well, SecureTAC is releasing next week, so stay tuned!
In the meantime, download the CIMB Clicks app today or find out more here!