Watch: This Entire Perak Kampung Came Together to Carry & Move a Whole Wooden House in 'Usung Rumah' Tradition
Do you hate the way the sun's hot beams shine directly into your house in the evenings? Is that particular tree blocking your view of the lake?
If only you could just pick up your house and move it around, just for the sake of a change of scenery.
That's what this group of people in Perak are doing, as shared by Facebook page, ODISI, in a now-viral video.
Ini definisi pindah rumah yang sebenar

Posted by ODISI on Monday, July 29, 2019
ODISI captioned their video with, "This is the real definition of moving houses."
A large group of people can be seen lifting up the wooden house using their shoulders before moving it to the right, leaving behind a pink cement staircase.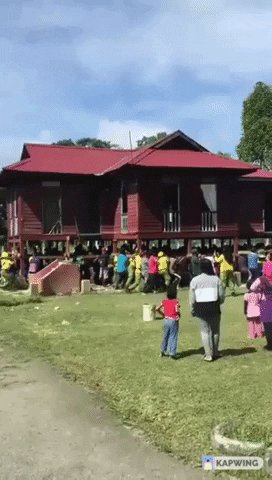 It turns out, physically picking up and moving an entire house is a tradition in Perak!
The whole idea behind 'Usung Rumah' is that the entire neighbourhood comes together to help the house owner lift up his house and move it to a new spot within his compound. By doing that, the house owner gets a new view every time he requires one, and the neighbours get to bond through some major heavy lifting.
And when we mean major, we mean almost 6 tonnes worth of house to be moved each time.
Yeap, you heard right, depending on the size of the house, some of these homes can weigh up to almost 6 tonnes.
Unfortunately though, due to the modernisation of properties throughout villages in Malaysia, this tradition is close to becoming something of the past (considering the fact that it's impossible to lift and carry a concrete house).
However, those in Perak who still live in wooden houses are still trying their level best to keep their tradition going strong. After all, how often do you see a house being carried by a bunch of people, right?
ODISI's posting has since garnered over 392 shares.
Do you even lift, bang?
Also read: Heroic Nanny in Johor Dies After Suffering 80% Burns From Running Into Burning House to Save Two Young Kids