Netizens Praise Myvi For Overtaking Luxury Car Convoy Hogging Entire Highway In M'sia
Recently, a study showed that people who drive expensive cars are more prone to being selfish on the road. Now, an old video has resurfaced online to further prove the study, but that's not the only reason why it's recirculating.
Luqman (@lukemanhafiz) took to his Twitter account to share an old video of a luxury car convoy in Malaysia that was posted back in 2019.
Impian sume lelaki pic.twitter.com/BpRFrkYUuX

— luqman🚭 (@lukemanhafiz) June 7, 2020
He wrote, "Every man's dream."
But the reason as to why the video is recirculating is that people have noticed that at one point in the video, the fleet of luxury cars could be seen hogging all four lanes of a highway, causing quite a hold up for the sake of good footage and cool shots of all the cars.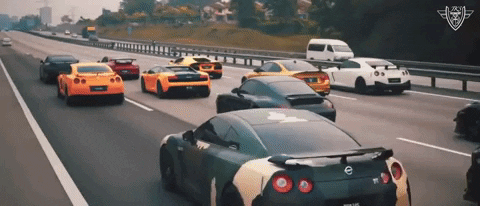 This comment goes, "This just causes congestion on the road. Inconveniencing others."
This comment reads, "Being rich and driving luxury cars does not give you a license to use all four lanes to shoot videos and cause traffic jams for the people in the back."
But through the video, netizens also spotted a legend on Malaysian roads, that chose not to follow behind the convoy of luxury cars.
A Myvi could be seen overtaking the convoy via the emergency lane, refusing to allow the fleet of cars to block its way.
This comment says, "A Myvi managed to overtake the idiots taking up all four lanes for the sake of a video. All hail the king!"
This comment reads, "Haha Myvi's don't need to record their own videos. Others will record them. Classy. A legend."
We're not saying that the Myvi had every right to use the emergency lane (unless they really had an emergency), but anyone would lose their patience waiting behind a fleet of cars hogging the entire highway.
I mean, it's previous obvious in that snippet of the video that they caused quite a jam behind them, and that's ridiculously unfair to other road users.
There's nothing wrong with taking videos of your cars, but perhaps it can be done in locations that doesn't require inconveniencing others.
I guess there really is only one true king of Malaysian roads.
What do you think about this? Let us know in the comment section.
Also read: "Whose Fault Is It?" Viral Myvi On Myvi Accident Causes Major Debate Among Malaysians