For most Malaysians, durian is a right of passage. One must know how to judge, open, eat and savour Malaysia's most favourite fruit in the whole wide world.
But despite our insistence on how the proper way the fruit should be savoured, there are still those out there who seem to be hell-bent on leaving local connoisseurs triggered and dying a little on the inside.
Taking to Twitter, @Tumblrshopmy share a video of what contestants of a South Korean reality show Laws of the Jungle did to our beloved fruit — by first cutting into the seeds of the durian.
Weii tengok dia potong durian macam mana hahaha.

Law of the jungle my fav show. pic.twitter.com/HmVLdIEfKM

— CRAFYNN (@Tumblrshopmy) October 2, 2019
It did not stop there; they even had the nerve to say that the fruit tasted like pineapple!
In the corresponding tweet, they also showed how they savoured the skin and not the durian fruit.
diorang mkn kulit, bukan isi 😭 frust aku tengok pic.twitter.com/jNbq72i9v3

— Ifh. (@_nuruliffahh) 3 October 2019
Just how noob can you be??
But to be fair, they did commend on how good the fruit tastes, so brownie points there.
Malaysians were quick to catch on to their mistake but displayed understanding — durians aren't native to South Korea after all!.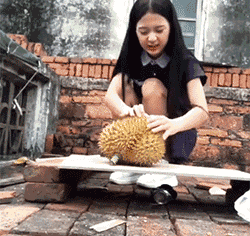 One netizen stepped up and shared an important point as to why South Koreans are not that familiar to durian, citing that it is expensive and the ones sold there are not the best kind.
"Durians sold here are expensive at 50,000 won (RM170) for one fruit. Moreover, the ones sold here are not the Malaysian variant but are imported from Thailand."
We urge Malaysians to be more open about this, and instead of condemning, let us show them the right way of savouring the durian. 
Also read: Japanese Girl Becomes Addicted to Durian After Visiting Malaysia for Vacation