8 Amazing Cafés Around Petaling Street You Must Try
Featured image source: zacharyyeoh and sherreenl
Petaling Street a.k.a KL's Chinatown has been a part of the Malaysian lifestyle for decades. This is the place where you can find a collection of stalls and shops selling everything from cheap trinkets to delicious local food and drinks (not to mention artificial 'branded' goods). It is a must see place if you are visiting KL.
As a lover of the world of culinary arts, I take special interest in local cafés which offers a more unique take on our local food. Be mindful that some of the restaurants featured here are non-halal.
1. The Front Door
Located on Jalan Sultan and sharing a building with the Grocer's Inn, it made full use of the classic building built in 1931. The ambience is unique as it clashes modern style of black painted walls with classic architecture which provides visitors a pleasant site to hang out and have some coffee. The signature dish of The Front Door are the scrumptious open-faced sandwiches of multiple flavours. It is a good place to relax and wind down after a day's walk in Petaling Street.
Location: 78, Jalan Sultan, 50000 Kuala Lumpur
Operating Hours: 8.00am to 6.00pm daily
2. Coffee Amo
Coffee Amo is probably one of the more prominent cafés found in Petaling Street, simply because of the 3D coffee art. The cute and fluffly looking creatures donning the tops of the coffee cups has gone viral on social media and are very popular amongst youngsters. Of course the café has lots more to offer besides cute coffee. It is also located in Jalan Sultan and are usually packed with people wanting to get pictures of their coffees The only problem with the café is some patrons will start to get attached to their coffees and refuses to actually drink them.
Image source: www.jiaaqieats.com

Location: 1st Floor, 54, Jalan Sultan, 50000 Kuala Lumpur
Operating Hours: 10.30am to 9.00pm daily
3. Merchant's Lane
Image source: Malaysian Flavours Photography
Merchant's Lane is one of those places where taking pictures should be compulsory for all visitors. The use of classical decor with modern style of furniture placement has made this the most photogenic restaurant in Petaling Street. Located off of Jalan Petaling, Merchant's Lane is a new and promising restaurant serving comfort food with style. It is a quick getaway from the hustle and bustle of Chinatown with good food and good people, especially with its amazing oriental vibes.

Location: No, 150 Jalan Petaling, 59000 Kuala Lumpur
Operating Hours: Sun to Thu – 10.30am to 6.00pm, Fri & Sat – 10.30am to 10.00pm (Closed on Wednesdays)
4. Einstein Café
Image source: timeout
Another treasure to be found along Jalan Sultan is the Einstein Café ( acouple of shops apart from Coffee Amo). A more quieter and lesser known restaurant that serves vegetarian dishes, it usually attracts students from independent high schools as it offers less noisy surrounding which is great for group study sessions. One of the dishes that is is made famous is the 7 inch Four season Pizza, a healthier alternative to a regular pizza as it is topped with mocked meat, green peppers, black olives, and mushrooms. For the more conservative vegetarians, it is important to know that the café does use dairy products and eggs.
Location: 58, Jalan Sultan, 50000 Kuala Lumpur
Operating Hours: 10.30am to 9.30pm daily
5. LOKL Coffee Co.
Image source: www.j-e-a-n.com
This nifty cafe might be a little further than the others (about an 8 minute walk from Petaling Street) but it's all worth it once you enter. Inside is like a little getaway from the busy streets outside, especially with backpackers often flooding the space. Owned by celebrity Cheryl Samad, the charming place is designed to be cosy and very insta-worthy!

Location: 30, Jalan Tun H S Lee, 50100 Kuala Lumpur
Operating Hours: Tue to Sun – 8.00am to 8.00pm
[sociallocker]
6. Lucy In The Sky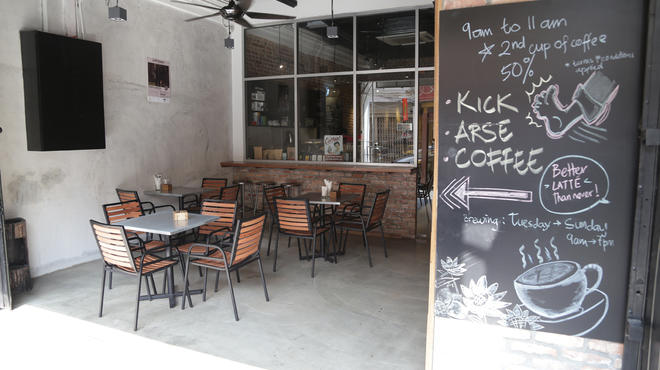 Image source: timeout
Based on a song by The Beatles Lucy In The Sky With Diamonds, Lucy In The Sky is a chic café found off Jalan Tun H.S Lee and has been operational for a year now. The western dishes served here are popular amongst the white collar workers around the area. The two dividing areas of the café is pretty unique, as one is dimly lit with relaxing ambience while the other side is a more contemporary and brightly lit dining area. Good coffee paired up with hearty food are what makes this place worth mentioning.

Location: Ground Floor, 167, Jalan Tun H S Lee, 50000 Kuala Lumpur
Operating Hours: Tue to Sun – 8.00am to 6.00pm (Closed on Mondays)
7. Old China Cafe
Seeking for something a little more traditional? Old China Cafe gives customers a sense of "wow" for capturing the olden chinese vibe, especially when the architecture of the premise dates back to 1920. The dim lighting sets a authentic 'feel' and was said to immediately take you into an old world where old chinese music is playing and antique looking pictures hang from the wall. The cosy place serves up amazing peranakan food that will leave you craving for more.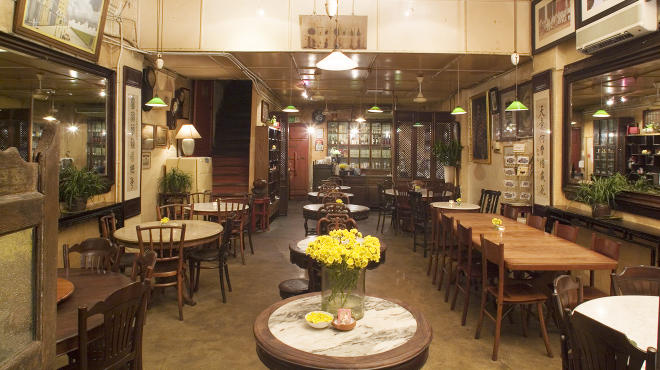 Image source: timeout
Location: 11, Jalan Balai Polis, 50000 Kuala Lumpur
Operating Hours: 11.30am to 10.00 daily
[/sociallocker]
8. Yum Cha Café
Image source: ewepaikleong.blogspot.com
The Yum Cha Café is owned by the same owner of a gift shop located downstairs from the café, as he thought it would be better to put the space to better use than just a storage room. Yum Cha provides visitors with very affordable dishes in a very sophisticated and modern atmosphere. Local favourites are the highlight of the menu and with various selection of tea, the place attracts a lot of backpackers around the area. It is located on the main street of Jalan Petaling.
Location: No.143 Jalan Petaling, Kuala Lumpur
Operating Hours: 8.30am to 6.00pm daily