"Wait For Me And Dad", 16yo Delivery Boy's Mother Pens Tearful Goodbye Post After Penang Bus Crash
"Chaq, I am not strong, you are our life. You are the one who taught me to become a mother and a friend," wrote the mother of 16-year-old delivery boy Hafiz in a heart-wrenching Facebook post that expressed her grief upon discovering the tragic death of her son, who was killed in a bus crash at Bayan Lepas yesterday evening.
The bus driver has since been issued a remand of two days because he was found without a driving license and under the influence of meth during the incident. You can read more about that here.
According to NST, the mournful mother, who goes by the name of Siti, often referred to her eldest son lovingly with the endearing nickname, "Chaq."
"Thank you for being a wonderful son. Even when you were tired, you'd still do what I tell you to do. Now rest my darling. Wait for me and your dad. Your brothers and sisters will be there too."
As she tearfully buried her son at Tanah Perkuburan Islam Masjid Al-Mustaghfirin in Sungai Tiram, Bayan Lepas today, Siti said she "found it extremely heartbreaking and difficult to accept" when she was first informed of her son's unexpected tragic death.
"He was still schooling but even from the start he was never the kind to stay quiet. He would work all sorts of part-time jobs to save up for his future and his family," the mum of seven told Harian Metro.
"Even so, he always told us that he didn't want to trouble his father and I. So for everything he gets, he earns it himself."
Hafiz's heartbroken father also said that while his son was quiet by nature, he was always independent and deeply cared for his family.
"He was a really good son. Not once did he burden his mother and I. We were an extremely close family."
While Hafiz's family is still deeply saddened by the death of their loving child, they remain thankful to have had a son like him.
"We accept this as Allah's will. We were blessed with Chaq for such a brief time, 16 years and five months."
Yesterday evening at around 6.30 pm, 16-year-old Muhammad Saifullah Muhammad Hafiz instantly died on the spot when he was crushed by a bus driver who lost control over his vehicle.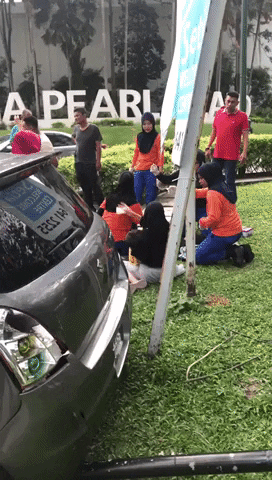 The bus also rammed into a parked Proton Waja and a Suzuki Swift that carried a mother and her two children at Persiaran Kelicap.
Since the incident, the police have detained the 49-year-old bus driver and the case is still being investigated under Section 41 (1) of the Road Transport Act 1987 for causing death by reckless driving.
We extend our condolences to Hafiz's family during this difficult time. 
Also read: UPDATE: Bus Driver Who Rammed Into 16yo Boy Has NO Driving License, Tested Positive For Meth!