Video: Driver Rams Into Teen On Pedestrian Crossing As He Did Not See Him While Turning
It was a horrifying sight when a Singaporean boy was knocked off his feet by a red car who did not see him walking across the pedestrian crossing.
According to Roads.sg, the incident happened on 6th January at about 1.30pm and recorded by a motorist's dashcam while travelling along Clemeceau Avenue towards Havelock Road.
The secondary school student in a school uniform was seen crossing the road in Outram area and clearly had the right of way.
But because the driver did not see him on the road, the teen was rammed from his side which threw his body about 10m from the pedestrian crossing.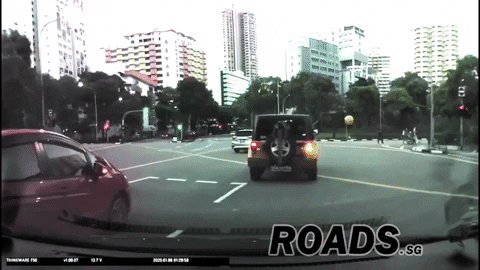 He seemed to have landed face-first and attempted to stand up while holding on to his face, but it is uncertain if he sustained any injuries from the hit.
Before the collision, the car on the right appeared to have slowed down for the boy, but unfortunately the driver in the red car was unaware that there was a pedestrian on the road.
Many collisions caused by discretionary right turns have been quite a common occurrence in Singapore lately. Suggestions to remove them have been brought forward as it relied too much on individual driver's judgement.
Here's the full video:
Hopefully the boy did not suffer any serious injuries. Drivers ought to be more careful when making discretionary right turns as it is easy to miss pedestrians crossing the road.
Also read: Watch: M'sian Motorcyclist Shows Off 'Martial Arts' Skills After Getting Hit By Car on Kepong Road