The one thing that Malaysians probably hate the most about their daily lives is the traffic. Not only do we end up wasting a lot of time, but we also waste a bunch of money burning fuel and killing the environment.
So, when a rarely seen (and super cool-looking) vehicle comes into the public eye, should it or should it not be considered a sustainable new transportation mode?
Our Transport Minister, Datuk Seri Dr Wee Ka Siong took to his Facebook account to showcase a man going down a highway heading towards Cheras, on what looks like a portable electric unicycle.
Inilah yang ditakrifkan sebagai mikromobiliti yang termaktub di dalam Rang Undang-Undang Pengangkutan Jalan (Pindaan) 2020 yang telah diluluskan oleh Dewan Rakyat dan ianya akan dibentangkan di Dewan Negara untuk kelulusan pada bulan ini.Ini bukan sebarang basikal kerana ianya merbahaya lebih-lebih lagi untuk digunakan di atas jalan raya. Ia perlu dikawal sebelum berlakunya kemalangan bukan sahaja kepada diri sendiri, tetapi juga kepada pengguna jalan raya lain.Tiga perkara yang perlu dipandang serius :1) Isu keselamatan orang ramai terutamanya pengguna jalan raya lain, kerana tiadanya perlindungan insurans. Jika berlaku kemalangan, individu yang berkenaan akan menghadapi masalah kewangan. Bagi pengguna lain, mereka pula yang terpaksa keluarkan duit sendiri atau membuat tuntutan insurans sendiri bagi tujuan membaiki kenderaan atau untuk perlindungan kesihatan mereka.2) Setelah RUU Pengangkutan Jalan (pindaan) 2020 diluluskan dan menjadi undang-undang kelak, Kementerian Pengangkutan Malaysia (MOT) akan mengawal selia jenis-jenis penggunaan kenderaan ini seperti mewajibkan pendaftaran dan mempunyai lesen memandu termasuk jika bersesuaian, melarang penggunaan jenis-jenis kenderaan sebegini daripada digunakan di atas jalan raya.3) Kelak, setelah diwartakan dan menjadi undang-undang, MOT akan mengelaskan jenis-jenis kenderaan di bawah kategori mikromobiliti ini. Mana yang wajar dilesen dan didaftarkan, akan diwajibkan berbuat demikian. Mana-mana jenis yang dari segi keselamatan tidak sesuai digunakan secara bercampuran di atas jalan raya, akan dihalang daripada digunakan atas dasar keselamatan dan kepentingan pengguna jalan raya yang lain.Jadi diingatkan, penggunaan jalan raya yang tidak bertanggungjawab ini akan menimbulkan risiko keselamatan kepada semua pengguna jalan raya lain termasuk diri sendiri.Jadilah pengguna jalan raya yang bertanggungjawab.

Posted by Wee Ka Siong on Sabtu, 5 September 2020
He wrote, "This can be categorised as micromobility which is enshrined in the Road Transport (Amendment) Bill 2020 which has been approved by the Dewan Rakyat and it will be tabled in the Dewan Negara for approval this month. This is not just any bicycle as it is dangerous especially for use on the road. It needs to be controlled before an accident occurs not only to oneself but also to other road users."
His main concern stemmed from the fact that riding these micro-vehicles on the road could cause potential harm especially considering the lack of insurance coverage and the lack of administration for these sorts of vehicles, but it looks like he's going to work on fixing this.
"Three things to take seriously,
1) Public safety issues especially other road users, due to the lack of insurance coverage. In the event of an accident, the individual concerned will face financial problems. For other users, those who have to spend their own money or make their own insurance claims for the purpose of repairing vehicles or for their health protection.
2) After the Road Transport Bill (amendment) 2020 is passed and becomes law later, the Ministry of Transport Malaysia (MOT) will regulate these types of vehicle use such as mandating registration and having a driving license including if appropriate, prohibiting the use of these vehicles types rather than using them on the road.
3) Later, after being gazetted and becoming law, the MOT will classify the types of vehicles under this category of micromobility. Whichever that should be licensed and registered will be required to do so. Whichever type that, in terms of safety, is unsuitable for use on the road will be prevented from being used on the basis of safety and the interests of other road users."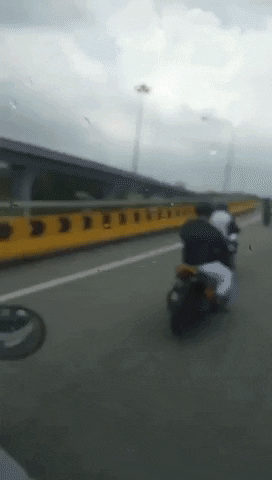 While there are many concerns about the safety of the rider, especially if another vehicle were to crash into him, the fact that the rider is wearing his helmet and the appropriate paddings and clothing for this vehicle while only riding by the side of the road, shows the initiative taken by the rider.
Plus, if this could eventually cut down the number of cars and motorbikes on the road, wouldn't that be good for the environment?
What do you think? Could this be a sustainable new form of transport in Malaysia?
Let us know your opinions in the comment section. 
Also read: Watch: SUV Drives AGAINST Traffic And Slams Into Myvi