M'sian Shares How His Friend Left RM1,500 Cash in His Car After Driving Him Around
A 27-year-old man shared on Twitter how a friend left RM1,500 cash in his car to thank him for fetching him around.
According mStar, Benjamin Rohaizad Razilan Affendy said that a friend had asked him for a favour and told him he needed a ride.
But what he didn't expect was that his friend started inserting 30 pieces of RM50 notes every where around the passenger seat!
"My friend asked me for a ride. After I dropped him off only I realised he intended to insert the money to cover petrol cost," Ben said.
Ben said he needed to drop by the clinic to get some medicine and when he returned to his car, he was shocked to see that his car was full of money.
At first he thought his friend was joking with him, but when the friend left his car and didn't take the money back, Ben realised that he intended to leave the money there.
Ben suspects that his friend had given him the money as a token of gratitude, since he drove him around quite often. The money amounted to a total of RM1,500! Dang, can I give him a ride too?
When asked if he was surprised by how much money his friend had given him, he said that it was not impossible as his friend was very wealthy.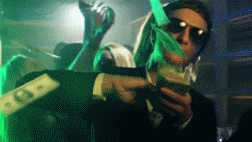 He said his friend has his own business, owns two palm oil plants and owns four cars, including an Audi R8.
"My friend doesn't like driving. He would rather ride in my Perodua Axia. Something rich people have strange personalities," Ben said.
*cries in poor
Also read: M'sian Girl Hints At BF To Buy Myvi To Show Off To Her Friends, Gets Angry When He Buys a Bigger Car