Found An Illegal Smoker? Here's How You Can Report Them To Authorities Via WhatsApp
So as you are all aware, the recent smoking ban that was brought up by the government last year has finally taken effect, starting from this Wednesday (1st January 2020). And while some people might think that the authorities aren't taking it seriously, many were surprised to find out that officers have been stationed at many outlets, keeping a watchful eye over smokers who flout the ban.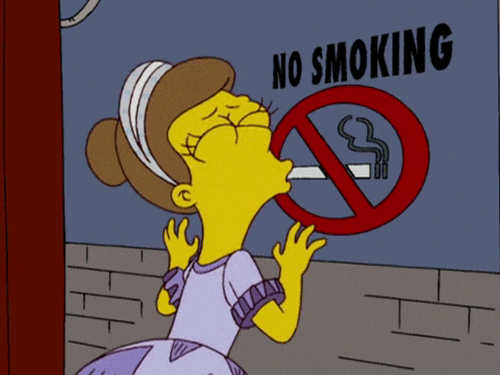 In fact, each smoker who was found smoking within range of any eatery was fined RM250 on the spot. According to The Star, over 705 summonses were issued on 1st January 2020 itself, which amounted to a collection of over RM170,200 in summonses!
But as you know, where there's a will, there's a way and some people will somehow still manage to find some hidden nooks and crannies to smoke. Or worse still, some people may choose to even outright ignore the smoking warning and just light up.
So what can you do if you're sitting next to someone who is literally smoking underneath the 'No Smoking' sign, or are smoking within range of any eateries? You can report them. Yes, you can actually report them to the task force designated to issue these summonses, and here's how to do it:
In a pamphlet that was distributed around town by the Malaysian Ministry of Health, instructions are now provided to all Malaysians as to how they too, can make a difference. And uh, make someone's wallet RM250 lighter.
Find out the name and address of the eatery or restaurant you are in.
Take a photo of the smoker who is smoking within the premises. But do it discreetly please.
Include the time and date of when the photo was taken.
You can also report eateries or restaurants that do not have the 'No Smoking' sign displayed on their premises.
Report your information through the WhatsApp hotline at 010-8608949 or call 03-88924530 (office hours only).
And just a reminder for smokers, you cannot smoke in "any area within a radius of three metres from any table or chair which is placed for the purpose of preparing, serving or selling food." according to The New Straits Times.
Now the decision is up to you, whether you want to make the report or not! In any case, we want to remind everyone that health is wealth, so it's probably a good idea to kick the smoking habit now, before you go bankrupt paying fines! 
Also read: Starting Jan 2020, Smokers In Restaurants Will Face 2 Years Jail Time Or RM10,000 Fine